So, you've finally decided to become the jet-setter that you've always wanted to be—how exciting!
With a bucket list of destinations in hand and an adventurous spirit, you're almost ready to take on the world—almost.
At Blue Horizon, we're a bit of a connoisseur on international travel and from our years traveling and planning trips for countless jet-setters, we've picked up a few—or several—tips along the way.
International Travel Planning Tips
The first step in international travel is planning your getaway! With several moving parts, planning your trip overseas can get stressful and it can be difficult to keep track of everything. Here are a few tips to help you stay organized and sane when planning:
Passport information
Probably the most important thing you'll need when traveling overseas is your passport. Your passport is proof of who you are, where you're from and visual clarification (your picture).
The Western Hemisphere Travel Initiative (WHTI) set standards for documents needed to travel between the United States and countries such as Canada, Mexico, Bermuda and many Caribbean nations. These countries historically required only a U.S. birth certificate and photo identification card to cross their borders.
Ultimately, you're going to need a passport in order to travel!
If you don't have a passport, you can click here for information on where to apply for a passport.
Renewing Your Passport
The expiration date on your passport may be playing a trick on you.
You will be allowed to use your passport in the U.S. up until the day it expires, but that's not the case with several other countries! Many won't accept a passport that's set to expire in six months or less.
Why? Because if something were to happen overseas that would extend your 10-day vacation to weeks or months, and your passport could potentially expire before you're ready to travel back to the U.S.
Stay ahead of the curve by renewing your passport early.
Make sure to check out these helpful travel apps that will definitely come in handy for communication, currency, managing your passport and more!

Do you need a Visa?
Every country has different regulations when it comes to foreign travel, so be sure to use the Passport Index to determine if you'll need to secure a Visa for your trip.
This tool will also let you know if you need to obtain the visa before entering the country, if you can buy once there, of if you can purchase it online!
Set Up Price Alerts for Hotels & Flights
There is plenty of research out there about what the best day is to book your international flight and boarding, but a helpful trick that we would advise using is setting up price alerts.
You will be notified if the price of the flight or hotel rate you're looking at fluctuates at all so you can snag the best deal possible.
Utilize a travel advisor
Of course, when you work with one of our experienced travel consultants, we'll take care of the planning for you!
Do your local research
Take some time to look into the destination you'll be visiting and brush up on the language and local customs. This doesn't mean you have to be fluent in Spanish or French, but it would help to know phrases like, "where is the bathroom?" "please," and "thank you."
Doing some research will also help you discover all there is to do in the area. Not only will you pick and choose the places that you must see, but you can buy any tickets or find good deals ahead of time.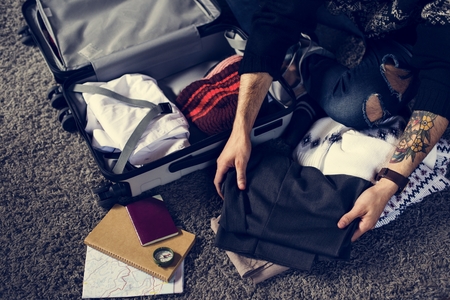 It'll be worth it to do a little bit of hard work now, so that you can relax later!
What to pack for an overseas trip
Packing is always a difficult task to conquer. Whether you're traveling for five days or two weeks, you can't possible lug around heavy bags the entire time.
A few international travel packing tips might be just what you need to make your trip a success!
International Travel Safety Tips
Safety is key when you're jet-setting across the world. Whether you're traveling alone or in a group, here are a few tips to help you stay sharp and safe!
Share your itinerary
You're not the only one who should have your itinerary. Leave copies of your itinerary and passport data pages behind with friends or family. Let people know where you plan on being and at what times throughout your trip.
It never hurts to keep people in the loop in order to have that extra level of security and accessibility in the case of an emergency.
Pack the proper documentation
Whether it's a family trip or smaller party, be sure you have all the proper documentation before your flight takes off. It will save you time, effort and headaches, allowing you to fully enjoy your trip abroad!
Make copies of those important documents
Make duplicate copies of the following documents:
– Passport
– Birth certificate
– Marriage certificate
– Your will or power of attorney document
– Naturalization papers
– Insurance papers
These documents will help responders identify you in case of an emergency—it's better to be safe than sorry when it comes to traveling!

Be aware of travel warnings and alerts
It's essential that you stay abreast of the local conditions of your destination. Alerts are usually about specific events, like during election season, there's a possibility of strikes or demonstrations. Whereas a warning is issued to take caution, when there has been reports of frequent violence.
Both are important to look out for before you travel so that you can properly prepare yourself for the circumstances you're entering into.
Enroll in STEP
The Smart Traveler Enrollment Program allows you to register your trip with the U.S. Embassy or Consulate. It's a free service that will send you vital travel information, help keep you in contact with family and friends, and contact you in case of an emergency.
This is just one of many ways in which you can stay smart while traveling overseas.
International Travel Insurance & Money Management
The last thing you want while traveling abroad is to be constantly worrying about money and insurance. So, instead, take care of the budgeting and travel insurance before you leave!
Notify the bank
There's nothing like getting to your dream destination and having your credit or debit card freeze. Avoid this issue by notifying your bank or credit card provider of your trip. This will ensure that your card won't freeze up when you need it most.
Know the exchange rates
Understanding the exchange rates of the country you're visiting beforehand will not only help you set a budget for your trip, but also help you stay organized and calm while dealing with money on your trip. Try to work with your bank instead of an exchange agency since their services usually cost extra.

Be smart with your insurance
To be a smart traveler, you have to be prepared. And the best way to be prepared while abroad is by researching international travel insurance and managing your money wisely.
Learn more about international travel insurance here!
With these international travel tips, your bucket list of dream destinations, and an excellent travel agent to help get you there, you'll have everything you need for the trip of a lifetime.
Ready to book your trip? Check out our upcoming tours or give us a call at 1-800-939-4334 to talk about planning your dream vacation!