Traveling light, especially internationally, has some significant advantages, including saving you money and making you more adaptable to life abroad.
Here are some tips to help you pack light so that you can make the most of your journey!
1. Pair your packing down
Lay out everything you think you want to take on your trip.
Then cut that in half. Yes! We said half.
Trust us, you'll be fine without it, and you'll enjoy not having to lug so much around with you everywhere you go.
2. Don't pack anything new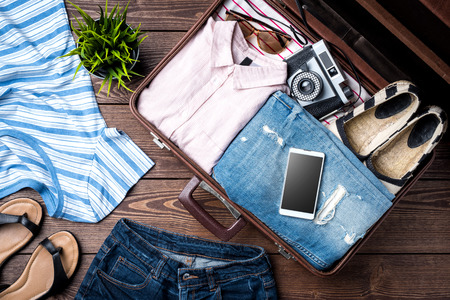 Items you plan to wear often should not only make you look good, but need to be comfortable, too.
Try not to take anything you haven't worn before—you want to make sure your clothing will stand up to all the activities you plan to do.
Test all your gear before you go, including your shoes!
3. Pack multi-purpose items
Make sure your clothes can serve more than one function, going smoothly from outdoor adventures to out to dinner.
Choose items that can be worn in multiple ways, too, to save space in your luggage.
4. Pick a color
If you want to get by on a limited wardrobe, pick one color palette. This will help you keep your packing to a minimal. Also, keep in mind that darker colors hide dirt easier, making it easy to carry fewer shoes.
5. "Just in case" items are a no-go
There will be a few things that you feel like you need to pack "just in case." Most often, you never end up using these! So, skip all the fuss and don't pack them at all.
6. Keep layers in mind while packing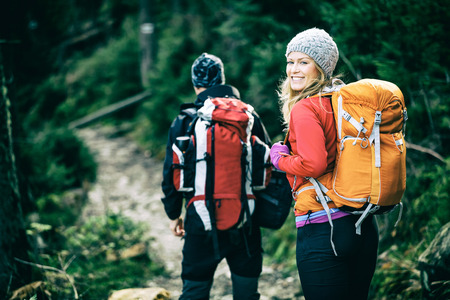 Plan for colder days and evenings by packing lightweight items that you can layer on top of other clothing.
This will also help you plan a variety of outfits without the extra clothes!
Bulky clothes take up a lot of real estate in your pack, so if you can wear two thin shirts for the same warmth, you'll save tons of room.
7. Wear your bulky clothing on the plane
If you do need to bring along some bulkier items, there's an easy hack: wear them!
This is an easy way to save some room and shave some weight off your luggage.
8. Stick to quick-dry fabrics
Try to pack as many things that are made from quick-dry materials as possible. These materials don't wrinkle as easily, making them perfect for stuffing into your pack!
With these materials, you can ultimately do laundry wherever you happen to be.
9. Consider doing laundry
Speaking of… do some laundry!
We know—it's your vacation and that means no chores. However, you'll be less stressed packing when you know that you can clean your clothes and wear them again.
Try to wear shirts and pants more than once and just change undergarments each day and wear outer layers multiple times, as well.
10. Organize your packing
Use packing cubes that can be compressed to maximize space in your pack and bring plastic bags, which will serve many purposes on your journey.
11. Pack heavy to light
In order to make your bag or suitcase more comfortable to carry, keep heavier things at the bottom with your lighter items towards the top.
We also suggest that you keep items you'll need while in transit easily accessible (most likely in your carry-on).
12. Use a shower cap for your shoes
Your shoes may be clean now, but there's no telling how they'll look at the end of your trip. Bring along a shower cap to place your shoes in so that the dirt and grime doesn't rub off on all of your neatly rolled clothes.
13. Place a dryer sheet in your suitcase
Want to stay fresh all vacation long? Use dryer sheets!
You can place them throughout your bag and rest assured that your clothes will smell fresh for your entire trip.
14. Skip folding & roll your clothing
Folding your clothes tends to result in a ton of wrinkles and we can't have that on vacation now, can we?
A popular trick used by the modern-day traveler is rolling your clothes instead of folding them.
This saves on space and eliminates the opportunity for deep creases.
15. Use tissue paper to help with wrinkles
Tissue paper can fend off wrinkles, too! If you plan on rolling your clothes (which you should), then just add in some tissue paper.
If you are going to fold your clothes, then place tissue paper between each folded article. This trick will reduce the amount of friction between your clothing and thus eliminate wrinkles!
16. Keep your liquids in a Ziplock bag
Any liquids or toiletries are best kept separate from your clothing and other items. However, you only have so much room to work with.
Use Ziplock bags to contain the liquids and keep your clothes safe from rogue shampoo while you're traveling.
17. Pack your carry-on with the essentials
Your carry-on should contain your basic essentials as well as an extra outfit. This will help put your mind at ease as you wait at baggage claim, which sometimes misplaces your luggage.
Remember, the less you bring, the more you can focus on having fun. Check out some more international travel tips here and when you're ready to go off on your next jet-setting adventure, call on the experts at Blue Horizon Travel & Yacht Charters!
Give us a call at 800-939-4334 today to start planning your next trip!