Vacations can become expensive very quickly, depending on what kind of trip you're planning. It's important to do what you can to save money for them. If you are planning on taking a trip soon and are looking for ways to stack up some extra funds, here are a few tips to help you save.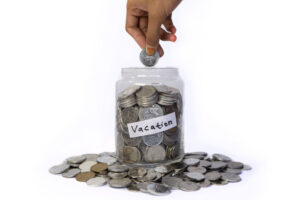 Skip the Coffee
We as Americans love our coffee, but frequent trips to our local coffee shop can end up being very costly. Instead of stopping for a cup of joe on the way to work, try bringing coffee from home or drink the coffee your office might provide. This will keep your wallet from thinning while keeping you energized for your day.
Sell Unused Belongings
Need a reason to clean out your home? Let vacation be your motivator to sell unused or unwanted items to raise some extra dough for your trip. You'll free up space in your home and collect some extra money for a nicer vacation while you're at it.
Eat at Home
Sit-down and fast-food restaurants are so great because they give us meals without the dishes, the cooking, and the hassle. The problem is while the preparation and cleanup shrinks, so too do our bank accounts. If you're trying to save for vacation, instead of heading out for food, stay in and cook something. On average, cooking at home is way less expensive than eating out, and all that effort you put into cooking your own meals will pay off when you have more money to spend on vacation.
Set Aside Money When You Get Your Paycheck
Every time you receive your paycheck or direct deposit from your job, it's important when trying to save for a vacation that you set aside a specific amount of money. It could be 50-100 dollars per paycheck that you put away in your vacation savings fund. After a while, this money will add up, and you'll find that when you go to book your vacation, you'll have plenty of money to spend to have a successful vacation.
By taking a few smart steps to cut costs with these tips, you'll have a ton of extra money in no time. Blue Horizon Travel & Yacht Charters can help you save too. As a full-service travel agency, we have connections around the nation and throughout the world that will help make your dream vacation a reality and at the best possible prices. For more information on our services or unique trips we offer, call us today at 800-939-4334.