There are most likely plenty of people who think of Alaska as the last place they would want to visit, but it shouldn't be. Alaska has so much beauty to offer, and when you visit, you'll never want to go back home. Alaska is one of those places you can never get enough of. When it comes to exploring the beautiful landscape, you can enjoy the thrill of towering mountains, glaciers, northern lights, and more!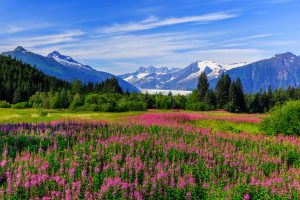 The Benefits of an Alaskan Vacation
When it comes to visiting Alaska, don't expect your typical beach vacation down south or tourist attraction cities like in Europe. Alaska is filled with a different style of vacation. If you're looking for the most amazing scenery coupled with a relaxing and laidback vacation, then Alaska is where you shall go.
Alaska is a remote place where you can enjoy peace and quiet while still getting away from your daily routine.
Benefits:
Remote Vacation
Beautiful Wildlife
Mountains/Glaciers
Native Culture
Northern Lights/Norther 2-Month Darkness
Northern Lights and 2-Month Darkness
Many people in the United States desire to see the Northern Lights at some point in their lives. Alaska is a great place to visit and see the Northern Lights in action. The sky lights up with beautiful colors of waves during different seasons. Bring a camera to capture this incredible phenomenon.
The Northern areas of Alaska go through a period of darkness for almost two months. The sun never really reaches the horizon, but a twilight does pop up for a few hours during this period of complete darkness. This is definitely something you should experience at some point.
Mountains & Glaciers
The snow top mountains are something you'll be in awe of when you visit Alaska. Alaska is also home to North America's tallest mountain called Denali. Not everyone will want to tackle any big mountains, but you will have the opportunity to witness the tall structure with your own eyes.
Juneau & Fairbanks
If you would like to experience some civilization in Alaska, you can stumble around Juneau, which is the state's capitol and Fairbanks, which is in the heart of Alaska. Both of these larger areas of population have shopping, eating, and historical sites to see, but don't be fooled by the attractions. You still have the opportunity to experience Northern Lights and other beautiful scenery in these cities.
Daytime During the Night Hours
There are several weeks in the summer where the sun will never set, thus presenting us with the midnight sun. This is one of Alaska's greatest features when it comes to visiting the state. During this period, you can track the sun around the horizon for the time of day instead of the sun going up into the sky.
Alaskan Activities
Alaska will provide you with more activities than you can actually do during your stay there. Fishing, hiking, skiing, boating, shopping, and more are just a few of the things you can find yourself doing while traveling here. Plus, you can say you've been to Alaska, and it was beautiful. This is a once in a lifetime opportunity until you actually get to Alaska, then you're definitely going to want to plan another trip to go back.
Blue Horizon Travel & Yacht Charters
If you're looking to plan a vacation in the next year or get ideas for traveling in the country or abroad, contact Blue Horizon Travel & Yacht Charters. We have upcoming tours and events that you can choose from, as well as experienced travel planners who can help you plan a perfect vacation customized just for you! Contact us at 800-939-4334 today or visit us online for more information!