Olympic National Park is located in Port Angeles, Washington in the Pacific Northwest of the United States. This area provides a wide range of different landscapes that can cater to everyone's preferences. If you want to relax on the beach, you can do that. If you want to go hiking in the mountains, you can do that.
There is a little bit of something for everyone that visits. At Blue Horizon Travel & Yacht Charters, we're always trying to discover amazing places for individuals and groups to vacation to, and we believe Olympic National Park is a must see.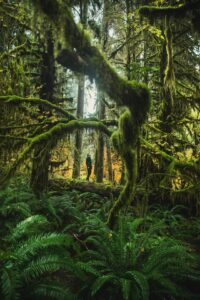 Here are some places that you must go to when vacationing in Olympic National Park.
Discover the Hoh Rain Forest
The Hoh Rain Forest is filled with lush green vegetation that leaves you in awe. With some very old trees, this forest is one of the coolest spots on the Olympic Peninsula. The rain forest can cater to campers as well with around 72 campsites for those who want to embrace the rainforest life.
Hurricane Ridge
Hurricane Ridge is a breathtaking view of the Olympic Mountains with several hiking trails, winter activities, and much more for those who would like to embrace the mountain life.
Ruby Beach
For those looking to relax and walk a beautiful beach, Ruby Beach is the spot to visit at Olympic National Park. With rock formations along the beach and in the water, you'll find breathtaking sunsets and amazing views at this place.
Sol Duc Falls
Sol Duc Falls is an amazing adventure awaiting. With trails up to the falls in the Sol Duc valley, you can enjoy the forests streams and waterfalls. You can also camp and visit the Sol Duc Hot Springs resort for a relaxing stay.
Olympic National Park has almost everything you can think of packed into one of the most beautiful national parks in the United States. We recommend visiting this park when you're vacationing to the Pacific Northwest region.
At Blue Horizon Travel & Yacht Charters, we can help you put together one of the best vacations of your lifetime. Our travel agents have years of experience planning and even traveling on some of the most amazing vacations. We understand the ins and outs of vacationing. Check out our upcoming trips to learn more, or contact us at 800-939-4334 today, or visit us online for more info!