If you haven't been to the great state of Maine, or you haven't thought of it before, it might be time to consider taking the trip. Maine is one of the great states in New England. It is full of beautiful scenery from the ocean to the great wilderness around you. It is one of the places where you can dive into the delicious seafood if you wish to. Also, most people don't know that there is a National Park that is located just next to Bar Harbor.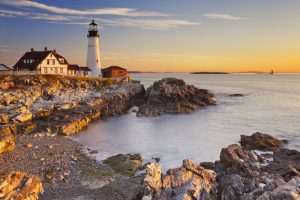 The Seafood Is Spectacular
First and foremost, the seafood is unbelievably delicious. If you're someone who doesn't enjoy seafood, then this is section is probably not going to interest you, but it's still worth a try. One reason many people love Maine is due to the fresh Lobster you can get. Also, if you enjoy chowder, this is the place you want to go to get the best.
Quaint Towns and Beautiful Coastline
Maine is filled with quaint little coastal towns filled with food, culture, and history. Along the coast of Maine is of course, the Atlantic Ocean, which can provide you with beaches and amazing scenery for a nice glass of wine at sunset, or a dinner reservation overlooking the ocean. With Portland being the "big city," you can find many old towns up and down the coastline.
Maine offers some beautiful wilderness with Acadia National Park, as well as Camden Hills State Park and many more! Acadia is just located next to the harbor town in North Maine called Bar Harbor. Acadia National Park provides camping and hiking opportunities with high peaks and gorgeous oceanside views.
The Natural Beauty
There are many people in the United States who visit Maine to get away. Within Maine, there are getaways as well. One place to explore in Maine is Monhegan Island. This tiny island is filled with hills, pines, lobstermen, and craftsmen. It is an island where you have to hop on a ferry to get to. The best part about this place is there are no automobiles present.
Sebago Lake is another place to visit while in Maine. It is the second largest lake and its deepest. One of the cleanest lakes, this is a great place to take the family for some water activities including fishing, swimming, kayaking and water skiing.
The Great History of Maine
Not only is the state of Maine beautiful, but it is also rich in history. There are plenty of footprints left from the descendants of the Mayflower. From shipbuilding to whaling techniques, you can find American Revolution as well in the museums near these historical places.
Along with the history comes the historical lighthouses that are spread along the coastline. These lighthouses are a major part of the history due to all the ships that were guided inland by them.
Why You Should Choose to Visit Maine
There are plenty of reasons to travel to a more tropical place than Maine, or to fly across the globe to a European country, but Maine has something that all of those other places don't. It has a very quaint and unique-feel when you cross the state line. When you enter the state of Maine, you are greeted with a sign that says, "The way life should be." There is a reason why they put that sign up in the first place.
Maine gives you that essential getaway that you might need. An adventure that will take you to high peaks in the mountains of Acadia or to a small town where you can have a feast of fresh lobster.
If you're looking to plan a vacation in the next year or get ideas for traveling in the country or abroad, contact Blue Horizon Travel & Yacht Charters. We have upcoming tours and events that you can choose from, as well as experienced travel planners who can help you plan a perfect vacation customized just for you! Contact us at 800-939-4334 today or visit us online for more information!