Vacation and work usually do not go well together, but we're living in different times. With COVID-19 affecting business, the economy, travel, the healthcare system, and much more, this concept is actually very real. Many people around the country are working from home either temporarily or permanently, which can provide more opportunities to travel and vacation.
As the world has been opening up again to vacations and travel, why not consider vacationing to a place where you can still work a little bit and enjoy the relaxation of a vacation!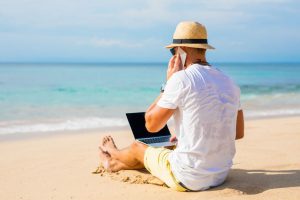 A Vacation Home at the Beach
We've all been there sitting in an office daydreaming about being on the beach relaxing. Well, it can happen now. If you work remote, you could book a trip to Florida, California, or other beach towns and work from a vacation home. The beauty of working remote from a vacation destination is that you don't have to necessarily take any time off or use PTO to do so. You also have the opportunity to enjoy the vacation!
Make it a Family Vacation
We understand it can be tough to plan a family vacation around everyone's schedule. If your children have off from school for an extended period of time, but you aren't able to get the time off during the same time, it can be very frustrating. One solution, especially if you can work remote is to bring your work with you.
At Blue Horizon Travel & Yacht Charters, we have the ability to plan individual and group trips to destinations of your choice. With the ability to work remote, we can help you find the perfect place to vacation and stay and make it convenient for everyone that is traveling with you.
We are in a new age of travel and vacationing. We are embracing the changes along with the guidelines. If you're in need of a break from sitting at home working, let us plan your next vacation in the United States!
Contact Blue Horizon Travel & Yacht Charters at 800-939-4334 today or visit us online for more information!