Many of us in the United States are looking to get out of the house and vacation, but the pandemic has restricted many from traveling to the places they want to. Some of those places include international vacation spots, cruises, and more. Many of these vacations have been cancelled or postponed, which doesn't help when you're looking forward to a trip that was planned.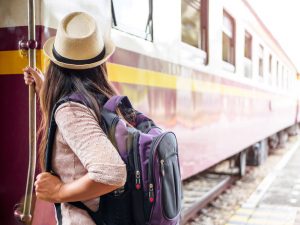 There is some good news, however. There are other ways to travel and vacation during this time while we continue to fight against the pandemic and get the world back to somewhat normal. One of those alternative vacations is traveling the country by train.
See the United States All at Once
Now, you definitely won't be able to see the country all at once when you travel by train cross-country, but you'll be able to witness the beautiful landscape of the country. Traveling across the country via rail is not a popular choice by many citizens, but it can be one of the best experiences of your life.
The Benefits of Vacationing Across the USA by Train:
You can bring your whole family
See National Parks/Monuments
Let the train drive you
See more than one place
Create memories for your kids
Travel comfortably
How to Plan Which Route to Take
Surprisingly, there are many train routes you can choose from to explore the United States. The big question is which one will work best for you and your family? Check out the train route link above to get an idea on which route you'd like to explore when going a long distance. The way of the train is very beneficial when trying to see places in the United States because it will stop in major cities, which allows you to see places you've always wanted to see. You'll witness the beautiful and incredible landscapes across the country including the plains, mountains, desert, forests, and plenty of other landscapes.
Travel & Vacation Differently This Summer
At Blue Horizon Travel & Yacht Charters, we understand the frustration that you're going through if you've had trips cancelled or postponed. We're not happy about it either, but we know how to work around it. We're dedicated to making someone's vacation the best experience they can have, which is why we're experts in vacation planning.
Here are some of the great sites you could see when traveling by train:
Grand Canyon
Amtrak California
Amtrak Adirondacks
Great Smoky Mountains Railroad
Amtrak City of New Orleans
And more!
The Benefits of Using a Travel Agent for Your Vacation Planning
When you plan a trip by yourself, it can be hectic. Sometimes, it's stressful because there are some items you may not consider when planning. With a travel agent, it becomes much easier because you won't have to stress out over all the planning details.
At Blue Horizon Travel & Yacht Charters, we specialize in travel planning for groups, individuals, and guided vacations. If you're looking to change up your vacation this summer, don't hesitate to reach out to us. Contact Blue Horizon Travel & Yacht Charters at 800-939-4334 today or visit us online for more information!