There are so many different ways that people choose to handle stress; meditation, indulging in comfort food or even taking a quick walk. Rather than taking that walk, why not take a flight instead? If you're like many others, your respective paid time off often goes unused because you simply can't fathom the idea of being away from the office for very long. Though you would certainly like to, you may worry that though you may be somewhere else, your mind may still be inside that small cubicle. Why take the time away when you're just going to bring your stress with you anyways?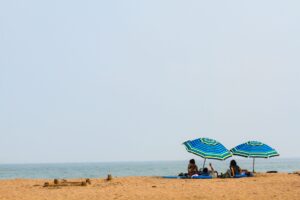 Reduce Your Stress by Getting Away
Not only does traveling actively lower your levels of stress, but it can also lower your risk of various health issues like heart disease, high blood pressure, diabetes, depression and more. If nothing else, going on an adventure and simply experiencing new things, meeting new people, and getting out of your comfort zone can have a huge impact on your overall senses and the way that you view things.
Sometimes, even if you need to get away from your home, vacationing with friends and family can offer great experiences for you to have. Vacationing also allows for the creation of memories that you'll never forget.
Why Does Travel and Vacation Ease Stress?
We're in the age of work hard all day, every day. This can be bad for your health because all of your energy goes into work, and you're not creating any time for leisure. When you allow yourself to plan a vacation and go on it, you're taking the time to get away from work stress, school stress, and just the daily grind that can cause anxiety in your life. If you're looking to go on a planned vacation, whether with your friends or family, or even by yourself, don't hesitate to reach out to Blue Horizon Travel & Yacht Charters.
At Blue Horizon Travel & Yacht Charters, we can help you put together one of the best vacations of your lifetime. Our travel agents have years of experience planning and even traveling on some of the most amazing vacations. We understand the ins and outs of vacationing. Check out our upcoming trips to learn more, or contact us at 800-939-4334 today, or visit us online for more info!