Your honeymoon is more than just a vacation – it's the beginning of a beautiful journey together. What better way to celebrate your love than by embarking on a romantic yacht charter? Imagine sailing the open waters with your partner, basking in the sunsets, and exploring secluded coves.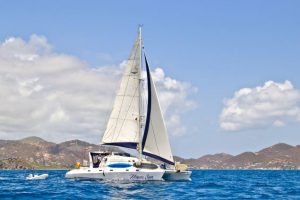 Selecting the Dream Destination:
The world is your oyster when it comes to choosing a romantic yacht charter destination. Consider places like the French Riviera, the Caribbean's turquoise waters, the Greek Islands' stunning beauty, or the Amalfi Coast's picturesque shores. Blue Horizon specializes in curating itineraries to these and other dreamy locales, tailoring them to match your preferences for adventure, culture, and relaxation.
Choosing the Perfect Yacht:
Your yacht will be your home and sanctuary during this special journey. Whether you prefer a classic sailboat, a luxurious catamaran, or a modern motor yacht, Blue Horizon will assist in finding the vessel that suits your style. Think about the number of cabins needed, onboard amenities, and the overall atmosphere you envision for your honeymoon.
Romantic Activities and Experiences:
Honeymoon yacht charters offer a range of romantic experiences, from stargazing on the deck to exploring hidden coves together. Snorkel in vibrant coral reefs, take sunset walks on the beach, enjoy private candlelit dinners onboard, and immerse yourselves in local culture through guided tours. Blue Horizon ensures that your itinerary is filled with activities that resonate with your shared passions.
Privacy and Intimacy:
Privacy is paramount on your honeymoon, and yacht charters provide the perfect setting for intimacy. Blue Horizon collaborates with experienced crews who prioritize your comfort and personal space. Enjoy the luxury of having secluded spots all to yourselves, where you can create cherished memories away from the crowds.
Gourmet Dining and Culinary Delights:
Savoring exquisite cuisine is an integral part of any honeymoon. Onboard chefs can prepare delectable meals tailored to your preferences, whether it's a seafood feast on a deserted beach or a romantic dinner under the stars. Blue Horizon will ensure your gastronomic journey is as memorable as the breathtaking scenery.
Capturing Moments to Last a Lifetime:
Don't forget to document your journey of love. Blue Horizon can help you arrange for professional photographers to capture your special moments against stunning backdrops. From candid shots to glamorous portraits, these photos will become treasured mementos of your honeymoon adventure.
A honeymoon yacht charter with Blue Horizon Travel & Yacht Charters offers a unique and unforgettable way to celebrate your love story. From selecting dreamy destinations and luxury vessels to indulging in romantic activities and gourmet delights, every detail is expertly curated to create a journey that's as intimate as it is breathtaking. As you sail into the horizon together, you're not just embarking on a honeymoon – you're setting the course for a lifetime of love, shared experiences, and beautiful memories.
If you're looking to plan a beautiful romantic getaway, reach out to us today. Contact Blue Horizon Travel & Yacht Charters at 309-526-3499 today or visit us online for more information!