Planning a vacation often proves stressful, tedious and difficult. From all the many details to consider when finding the best and most affordable rates for hotels, airfare, tours, tickets and more, planning a trip is no easy task. But there is a way to enjoy your vacation without the hassle of scouring through countless sites and vendors – let someone else take care of planning it for you! Here's why you should plan your custom vacation with a Blue Horizon travel agent today.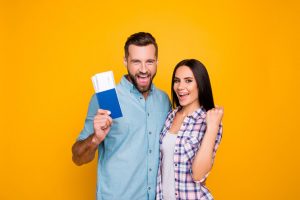 Verified Vendors and Operators
When it comes to finding reputable and high-quality vendors and operators, we've done the research for you. We work with a wide range of the finest tour companies around the world with proven track records of extraordinary service to ensure your vacation is the best it can be.
Thousands of tour companies exist with unlimited options. Take the stress out of planning your vacation and let us help you book only the finest adventure tours, golf outings, culinary stops, city stays, escorted motor coach tours, self-driven journeys and more.
One-Stop Booking
One headache with planning your vacation is deciding where to stay and how to get there. The quality and price of your hotel and travel arrangements could easily make or break your trip.
We know all the best places to stay and can find you all-inclusive resorts. We can also set you up with some great air-hotel combination packages that will save you money and the struggle of reading through hundreds of airline and hotel reviews.
When it comes to how you will get to and from your destination and the place where you will relax and recharge during your trip, trust Blue Horizon to set you up with only the best in quality and price. Take the hassle out of finding travel options and accommodations by taking advantage of our one-stop booking.
BEST VALUE
Why shell out more than you have to for a trip of a lifetime? Every traveler's budget and needs are different, and we work to create the ideal vacation package for you. We help you save money by finding you the very best values and rates for all aspects of your itinerary.
Don't waste your time searching the Internet for hours looking for the best rates – we have them and we're willing to share with you! Let us create your perfect vacation packages and tours regardless of your budget.
Travel Details
Planning a vacation requires considering many tedious details, as making travel arrangements comes down to more than just booking your hotel and airfare. There's coordinating flights, connecting with land or sea travel connections, setting check-in times and making sure that your arrangements get you to all your destinations on time.
Appoint an experienced travel planner to make sure all details – large and small – are covered. Why settle for a mediocre vacation when you can work with a professional agent to create the trip of a lifetime? Guarantee a smooth vacation from start to finish by planning your custom trip with Blue Horizon.
No matter where you want to go, what you want to see, or what you want to do, Blue Horizon can help plan your perfect trip to locations around the world! Contact us to learn more and get started on booking your ideal getaway today!