Traveling can seem very stressful these days with the on-going pandemic, but there are ways to still go on vacation in the United States while following the number of protocols that are in place in several states. Hawaii is one of those places that you won't regret going to in the United States. It truly is a place of paradise. Some people don't want to go to Hawaii because of the long flight, but when they do go, they never want to leave.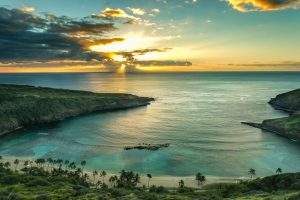 Why Choose to Vacation in Hawaii
Hawaii is probably a desirable place to visit for most Americans. It is filled with beautiful wildlife, beaches, mountains, volcanoes, and relaxing. There are several small islands around the main island you can venture out to and discover the beautiful shores around them. Many tropical islands close to the United States might be difficult to travel to during this time, so Hawaii gives you another option to relax on the beach and have a beautiful, much-needed vacation.
The Beaches – Obviously, this is one of the main reasons people vacation in tropical places. Every island in Hawaii has a famous beach. Travel to Oahu's Waikiki and enjoy one of the most famous beaches in Hawaii. Kauai's North Shore Beaches are also a must-see when you vacation in Hawaii.
Volcanoes – The big island is home to Hawaii Volcanoes National Park. Kilauea Volcano is the world's most active volcano. You can also visit Haleakala National Park in Maui and witness one of the world's largest dormant volcanoes. Witnessing a massive volcano is a once-in-a-lifetime opportunity, which is something you cannot pass up in Hawaii.
The Weather – Well, we've already hinted towards the weather with the amount of beach options Hawaii has. But yes, the weather is spectacular. The temperature stays relatively the same even though the summer is dry, and the winter is wet. The cool breeze along with the sun shining on several spots of the islands each day creates a heavenly place to vacation in.
The People & Culture – You will feel welcomed in Hawaii due to the fact that by law, every Hawaiian citizen has to follow the rule of "aloha spirit." This has made Hawaii a major tourist destination, and most families in Hawaii have at least one member in the tourist industry. Hawaii is the definition of a melting pot. Everyone is the minority when you visit Hawaii, which creates an amazing and comfortable atmosphere to vacation in.
The Food – In the past 30 years, the cuisine in Hawaii has changed. Before these years, the food was a mix of different cultures from all the people that came to live there. Now, the food consists of a blend of Hawaiian flavors and traditions with other foods around the world. It's Hawaii's spin on the blending of cultures of food. You'll be able to enjoy the island's local cuisine along with the delicious original Hawaiian restaurants.
Hawaii is a Vacation for Every Type of Person
Flying to Hawaii is the part of the trip that no one likes and takes time, but once you're on the island, there is a little something for every person who vacations there. From relaxing beaches to hiking mountains, there is something for everyone. Whether you're the type of person who would like to spend your vacation on the beach soaking up the sun with a few drinks, or you're the type of person who would like to explore, hike, and see magnificent views from a mountain top, Hawaii has it all! You won't regret venturing out to the Hawaiian Islands for some beautiful scenery, culture, food, and relaxation.
It's required to follow COVID-19 protocols, as well as the state's requirements for traveling to the islands. Keep yourself updated with these Hawaii's COVID-19 requirements here. Although these protocols may be changing in the near future, you still have to be on top of them whenever you plan to go.
Travel with Blue Horizon Travel & Yacht Charters
At Blue Horizon Travel & Yacht Charters, we plan both big and small trips for individuals, & groups. We plan pilgrimages, vacations, and cruises domestically and internationally. Check out our planned trips here or contact us at 800-939-4334 today or visit us online for more information on how we can help plan your trip to the beautiful state of Hawaii.