Not everyone is a fan of the "Spooky Season," but some people get really into the Halloween season. For those looking to expand their vacation destinations and get creative during this spooky time of the year, here are some places you should consider checking out for a fall trip!
We've picked our four favorite and freakiest frights that would make great weekend destinations for an upcoming spooky trip. Check them out below.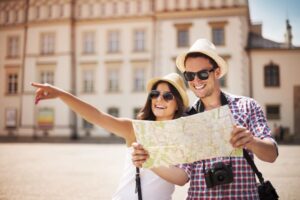 1 – Winchester Mystery House
The very strange Winchester Mystery House is located in San Jose, California, and was built and designed throughout the majority of the life of Sarah Winchester. Winchester was thought to have been a woman who communed with the spirits, and some say that she built this confusing house so that the bad spirits who caused the premature death of her husband and baby would not claim her, too. The house has an estimated 160 rooms, stairways that lead nowhere, dead-end hallways, rooms surrounding rooms, and is thought to be home to many spirits – including Winchester herself! Visit and see if you can find a new space or one of the haunted residents.
2 – The RMS Queen Mary
Docked in Long Beach, California, the RMS Queen Mary is a retired ship that is believed to be haunted by a sailor who was accidentally killed in the engine room, the spirit of a man who was murdered aboard the ship, various crewmembers who were killed during a collision with another ship, and a mysterious "Lady in White." Stay in the hotel now located aboard the ship and take a tour of the sights of the hauntings; maybe you'll see the lady for yourself.
3 – The Myrtles Plantation
The Myrtles Plantation, located in St. Francisville, Louisiana, is thought to be built on the site of an ancient Native American burial ground, and is known for being one of the most haunted American homes. The plantation is now run as a bed and breakfast; check in and experience some of the strange things that guests have notices, like disembodied footsteps, mysterious smells, and even ghost sightings. Paranormal buffs claim that more than a dozen spirits occupy the home, ranging from former residents to a lawyer who was shot while climbing the stairs to the home. Book a stay – if you dare!
4 – Lizzie Borden Bed & Breakfast
Rounding out the list, you can spend the night in the home that was the site of the strange and vicious axe murders of Abby and Andrew Borden that occurred on Aug. 4, 1892. The Lizzie Borden Bed & Breakfast is located in Fall Rivers, Massachusetts, just an hour south of Boston. The prime suspect in the crime, though she was acquitted, remains Lizzie Borden, the stepdaughter of Abby and daughter of Andrew. There are many theories about why Lizzie may have killed her father and stepmother, though nothing has been proved, though many guests report feeling a strange presence during their stay.
Get out and explore some of America's great haunts – a perfect trip for October or any time of year. Contact us today and start planning your Halloween-themed getaway with Blue Horizon Travel!