Cruising has created an affordable way for couples, families, and close friends to embark on an adventurous quest around the world. Although cruise lines have been around for many years, not everyone decides to go on one when they plan their vacations.
Some might say that you can't beat a resort-style vacation and while that may be the case for some people, a cruise offers everything you'd get on land, just in one reasonably priced package at sea. The open air and 1,000 or more feet of convenient entertainment make for one unforgettable trip.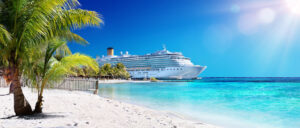 So, the next time you start planning a vacation to remember, consider trying out a cruise vacation for a change!
Cruise Vacations are a Great Value
Cruises are affordable and you don't have to worry about the planning details because it's all included! With any other type of destination vacation, you'd have to book your flight and your hotel individually, and then if you wanted a way to get around, you'd have to purchase a rental of some sort. A cruise ship is your transportation, accommodation, and entertainment all in one.
Unpack is a One Time Occurrence
When you take the time to visit another part of the world, you want to be able to see as many places as you can. Unfortunately, this can be quite the hassle when you consider that you must continuously pack and unpack each time you move on to your next destination. On a cruise, you only need to unpack once as you sit back, relax, and sail on to the next adventure.
Planning Out the Cruise is Simple
On any other ordinary getaway, travelers may spend hours, if not days, searching the internet for the right flights and hotels at the right price. With cruises, you don't have to stress yourself about any of that. Just book your cabin on the ship and you're all set to come aboard. Many ships even offer discounts for group bookings, so there's no need to panic when the extended family wants to join.
At Blue Horizon Travel & Yacht Charters, we can help you put together one of the best vacations of your lifetime with a beautiful cruise. Our travel agents have years of experience planning and even traveling on some of the most amazing cruise vacations. We understand the ins and outs of vacationing. Check out our upcoming trips to learn more, or contact us at 800-939-4334 today or visit us online for more info!