Are you a busy professional looking for an escape, an oasis to call your own, or a break from the never ending hustle of city life? You're in luck, because this summer Blue Horizon Travel & Yacht Charters is bringing the scenic glory of the Alpine Villages to you. This 12 day group tour through the quaint, mountainous landscape of Germany is the solstice that may save you.
Our tour will begin in one of the fairy tale towns of Stuttgart, Germany, located near the historically enchanting Black Forest. Here we will explore the many fascinating sights of the area, such as the centuries-old farmhouses that have been reconstructed in a collection at the open air museum.
After getting our fill of the majestic sights of the Black Forest area, we move on to the darker side of the alps as we take photos of stunning Gothic architecture in Triberg, host to Europe's best preserved Medieval monastery.
From here we will depart the Black Forest area and make our way to the Switzerland Interlaken region, a beautiful area filled with lakes and snow-covered vistas. We will then travel to the village of Thun, Switzerland, where a castle in the center of the Old Town awaits us.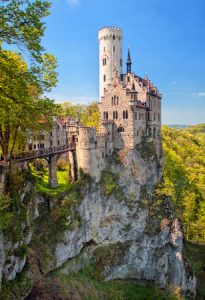 The following four days will bring us through more lovely Alpine towns, like the Lake Constance area and the scenic Austria Kitzbuhel, where we will enjoy a picnic lunch in front of an idyllic mountain view!
On Day 10 we take a small bus up the narrow roads of the Kehlstein Mountain in Berchtesgaden, and an elevator ride up to the summit, where we rest with a cup of tea at the "Eagle's Nest," a present given to Adolf Hitler in the 1930s.
Our final tour destination will be Freising, a town outside of Munich and located near the International Airport, where we will individually or in groups explore the village as we see fit before packing for home.
All of the trip details you need to know are location on our PDF itinerary or you can call us at 800-939-4334 to inquire about this once-in a-lifetime excursion.
Do you have questions about the trip itinerary, or are you interested in creating your own? Take a look at our custom vacation packages and tailor a trip that suits you.