Traveling is a great way to experience new cultures, learn more about different ways of life and see amazing sites. If you've been looking through travel blogs and photos of lavish international vacations, you may think that achieving this seems impossible.
Everyone wants to travel and see the world, but how can you do so when you're on a budget? You don't' have to be rich to travel! Plenty of people travel around the world with limited funds by establishing a plan and sticking to it. Luckily, there are some tried and true ways to travel well without burning a hole in your wallet.
Here are a few tips for traveling on a budget:
Skip the Cab
One of the best ways to get to know a new place is to walk around and through it, and when you're traveling on a budget, taxis are probably out of the question – but so what? If you're staying outside of London, for example, hitch a ride into the city on the Tube, and spend the day walking from one end of the city to another, stopping along the way to pick up cheap local eats, visit the sights and bask in the historic architecture. We promise you'll feel like you know the town by the time you head back to your home base.
Group Travel
Don't be afraid to use social media, either. Apps like Couchsurfing or Meetup can be a great way to connect with other groups traveling through the same areas. You can also network with locals who have shared interests or discover free events like art shows, picnics or concerts.
Try A Hostel
Hostels are cheap accommodations that range from 10-50 dollars a night. Staying in hostels are great if you are traveling in a group this way your group can all stay in the same room. Most hostels also usually have fully equipped kitchens so you can prepare your own food which can help save money while traveling.
If you've never stayed in a hostel, it can be a little intimidating, but many reputable lodgings have visitor reviews online that you can read. Do your research and choose carefully, based on online recommendations and location.
Use A Travel Agent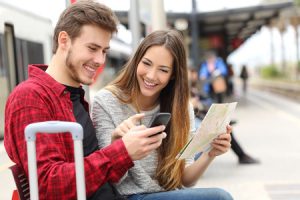 If you are planning an international excursion, it is possible to do so without being "Daddy Warbucks". You can scour the travel sites online but there are so many different prices that it can become confusing. A travel agent can expertly find the best deals and locations for you. The experience, knowledge, and inside connections allow travel advisors to find deals that aren't accessible to the everyday person.
Another thing you'll need to do when you're traveling on a budget is to plan ahead. You want to have your destinations mapped and booked before you get to the airport because incidental hotels can be pretty expensive. That's just one way that Blue Horizon Travel can help. We understand that you only have so much to spend, and we can help you plan an incredible experience in whatever location you'd like to visit while helping you stay within your budget. Contact us today to book your next adventure.