Without a doubt, taking the time to travel to any region that is unfamiliar to you is going to be an experience that you won't soon forget. However, if you are in the midst of planning your first-ever trip outside of the U.S., you may be starting to feel a bit of anxiety. Instead of focusing on all of the amazing things you are about to see and experience, you begin panicking over wardrobes, packing, scheduling time to see the best attractions and budgeting for each day that you'll be gone.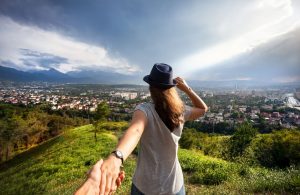 Traveling is supposed to be your time to take a break from your everyday life of worries and stress, so don't pack them with you!
Pack Light – Okay, we understand that this one may be a little difficult for some but try your best. Keep in mind that not only will you want to save space in case you want to bring some souvenirs back with you, but you don't want to be tied down by a giant suitcase if you want to have the freedom to actively explore different places each day.
Savor the Moment – The last thing that you want to do is to ruin a moment by worrying about things that haven't even happened yet. Enjoy being in the moment while you're actually in it rather than consuming yourself with whether or not you're on schedule or if you're venturing too far off the beaten path.
Try New Things – There's a famous quote from James A. Michener that reads, "If you reject the food, ignore the customs, fear the religion and avoid the people, you might better stay home." Take advantage of your foreign surroundings and live a little!
Don't Stop Dreaming – There is a big difference between being a tourist and being a traveler. As any traveler will tell you, there's just something about the adventure of it all that is extremely infectious and sometimes you can't help but dream about your next vacation – even while you're still in the middle of your first! Don't lose that momentum when you get home; start putting ideas together and saving up!
It is impossible to walk away from an incredible travel experience unchanged. You feel lighter and more cultured and eager to experience new things and at the end of it all, you'll wonder why you even gave so much thought to the miniscule stresses before you left. At the end, it's all worth it.
If you're in need of help with planning your next vacation, look to a trusted travel agent like Blue Horizon. Contact Blue Horizon Travel & Yacht Charters at 800-939-4334 today or visit us online for more information!