Getting ready to go on your big trip?
Be sure you don't fall prey to these common traveler mistakes!
1. Forgetting to notify your bank of your travels
The only thing worse than ignoring your budget, is not having a budget entirely—and we mean no money!
Banks constantly monitor your credit card's transactions and once it is flagged for unusual activity they could freeze your account to keep you safe. Make sure to let your bank know your plans for traveling to avoid them canceling your credit card.
2. Packing your entire closet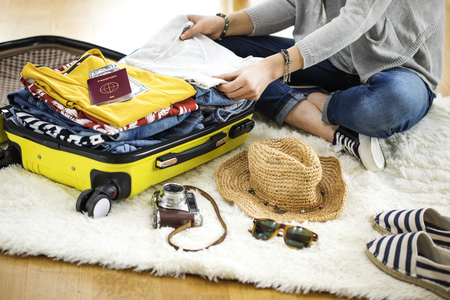 Less is more when it comes to packing.
Packing too much is not only unnecessarily expensive but also makes it more difficult to travel.
Remember that you most likely can do laundry in your destination, and you can always buy whatever you forgotten once you've arrived.
3. Trying to do it all in one trip
Travelers often try to pack as much as possible into one trip. After all, how often will you get to visit Paris?
However, you also want to take your time and soak everything in without the stress of running around and trying to visit an entire country in a week.
4. Putting off your travel to-do list
Before you leave for a large trip there are some tasks you must complete, such as stopping your mail and arranging care for your pets. You also need time to pack for the trip and to create a travel itinerary.
Pushing off all these to-do items until the days leading up to your trip is a mistake that leads to unnecessary stress. Instead, give yourself plenty of time to complete your preparations before leaving.
5. Ignoring your pre-made budget
So, you made a budget you swore you would stick to, but now it is day three and you have run out of money…
Make sure you know how much things cost in your destination, become familiar with the exchange rates, and leave some room for unexpected expenses!
6. Highlighting yourself as a tourist
While you will stick out to some degree as a tourist in the place you visit, there are ways to draw less attention to yourself. Avoid wearing designer clothing items that attract attention and try to leave the flashy jewelry at home.
Stay considerate of your destination's culture and try to learn some of the language and customs so that you aren't struggling with signs and directions the entire time.
7. Focusing solely on main attractions
Yes, go visit the Louvre and the Leaning Tower of Pisa, but also make time for exploring the paths less taken in the country you're visiting. Though your destination's most popular attractions likely played a role in picking your getaway destination, remember that there is so much more to explore.
Do not miss out on local hidden gems or smaller locations just because you have not heard of them before.
8. Taking only one copy of important documents
Keep a hard copy and digital copy of your important documents with you. If you misplace or lose your hard copies, the digital copies can help you more easily get through verification processes. Do not forget your passport and ID's!
9. Getting stressed out over change
You must be flexible with your trip, whether your flight gets delayed or your hotel room was double booked, or your travel time took longer between attractions than planned.
Anticipate these possible changes and accept that something could go wrong before you leave. This eliminates the stress you feel when something does happen and allows you to create some back-up plans.
10. Forgoing your research
Anytime you travel somewhere new, it's important to do a little research about your destination ahead of time. From understanding the culture to knowing which areas to avoid and how public transportation works, you'll save yourself the headache of trying to figure things out on the spot.
Our team at Blue Horizon Travel & Yacht Charters would love to help you avoid these common traveling mistakes and help you plan the getaway of your dreams. Contact us today to get started!