The Northeast offers plenty of opportunities to explore some of the nation's history and see some of the most notable sights of America. Home to many of the original 13 colonies, the Northeast is a destination of choice for many travelers. With summer in full swing, the Northeast region of the United States offers some of the best summer trips and experiences in the entire country. You also won't have to be in scorching hot temperatures like you would down south.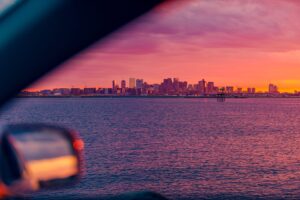 Here are some places you should visit this summer in the Northeast United States.
Lake Winnipesaukee for a Family Vacation
With 280 miles of lakeshore to explore, there are unlimited opportunities to sunbathe, swim and play by the water with your children, who will also enjoy the old-fashioned drive-in theater, boardwalk and Lake Winnipesaukee Scenic Railroad, which tours the historic railway past the lake and features magicians and balloon animal artists for the kids. Adults and older children can experience thrilling adventures as they zip-line through the air or tackle the ropes courses, which are open at the area's ski area during the summer months.
Spend a Romantic Evening in Niagara Falls
One of the most incredible sights a person can witness is the majesty and power of Niagara Falls, which is located just north of Buffalo, New York. Bordering our neighbors to the north in Canada, this massive waterfall system is a romantic location that has become one of the world's most in-demand wedding and honeymoon destinations. You can choose between staying close to the falls, with many hotels offering spectacular views to lovers who visit, or by selecting one of the fantastic hotels and attractions throughout this great region of Western New York.
The History of Boston
Dive into one the USA's oldest cities, and a place where many "firsts" occurred for the earliest Americans. Some say that between the architecture and the atmosphere, Boston streets are the closest you can come to visiting Europe inside the States, but in truth, "Beantown" is home to many historically significant sites, such as the Freedom Trail, America's First Free Public Library, First Public Park and many more. Visiting Boston can bring you back to the days of the colonists or show you just how far we have come with its All-American spirit and melting-pot population
At Blue Horizon Travel & Yacht Charters, we can help you put together one of the best vacations of your lifetime. Our travel agents have years of experience planning and even traveling on some of the most amazing vacations. We understand the ins and outs of vacationing. Check out our upcoming trips to learn more, or contact us at 800-939-4334 today, or visit us online for more info!