If you're like many people throughout the world, seeing the Northern Lights up close is one of the highlights of your bucket list. Who wouldn't love an opportunity to witness such a cool natural phenomenon? Not only is it scientifically intriguing, but on a more obvious note, the colors are just beautiful! Do some research to plan your trip around which seasons are the best to see the northern lights in these specific areas.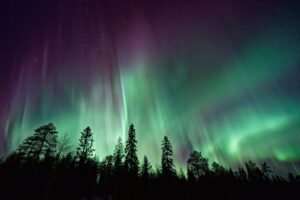 Here are just a few of the best places you can see the Northern Lights around the world.
Southern Iceland – Having fantastic views of the Northern Lights is something that this region of Iceland is internationally renowned for, and there's no better place to see them than at Hotel Ranga. Set back into the countryside without interference from the city lights, you can't really get better viewing conditions!
Fairbanks, AK – Because the winter season is the best time to see the Northern Lights in many areas of the world, people often cringe at the thought of standing in the cold to see them. Luckily however, the Chena Hot Springs Resort in Fairbanks allows you to take in the magnificent scenery while relaxing in warm, healing waters. Because this town is located directly underneath a stretch of aurora activity, nature's light show can be seen very regularly from August until May.
Finland – Out of the 365 days in a year, the Northern Lights can be seen during 200 of those nights in Finland. If you choose to check it out, consider the fact that you can gaze up at the sky through the roof of a glass igloo at the Kakslauttanen Resort. Enjoy the colors dancing overhead from the comfort of your bed one night, and then take a reindeer-drawn sleigh ride the next night as you hunt for the aurora.
Cherry Springs State Park, Pennsylvania – Turns out you don't necessarily need to board a flight to see the Northern Lights. Due to the fact that Cherry Springs State Park is so far away from the city lights, it has actually been given one of the highest titles by the International Dark-Sky Association.
Check out some of the other top locations to see the aurora borealis on this extended list, and then schedule an appointment with the travel agents at Blue Horizon Travel to see how we can get you on your way today!
At Blue Horizon Travel & Yacht Charters, we can help you put together one of the best vacations of your lifetime. Our travel agents have years of experience planning and even traveling on some of the most amazing vacations. We understand the ins and outs of vacationing. Check out our upcoming trips to learn more, or contact us at 800-939-4334 today, or visit us online for more info!