Every old Italian wives tale usually ends with the same scene: a girl falls in love with a guy on a gondola ride through Venice, while he serenades her with a love song or romantic gesture. As day turns to night, the city lights dance in the ripples of water and the two sail into dreamland together forever. Who wouldn't want a romance as budding?
Thinking about Valentine's Day gifts? You can experience a love like no other when you book your romantic getaway to Italy!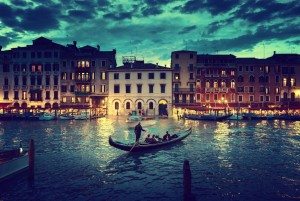 Venice
Of course, a gondola ride is quintessential to your authentic Italian vacation, and Venice is the city to do it in. Everyone, at least once in their lifetimes, should experience the majesty of a streetlit ride through Italy's idyllic antiquity. Gondola ride zones are usually found inside high traffic tourist areas, and there are a lot of them; Tronchetto, the Doge's Palace, and the Rialto Bridge are a few of the spots where you will find a debonair gondolier calling you to his boat for a romantic escape.
Rome
Rome is a city speckled with street vendors, jousting crowds, and compliments for the ladies. If you're not much for heat and crowds, we suggest visiting in the fall months of September through October. The locals of Rome appreciate the beauty created by their world-famous landmarks and buildings, including the Colosseum, St. Peter's Basilica, and Trevi Fountain. Make sure when you visit the fountain, you throw some change in for good luck!
Tuscany
If you enjoy fine art and spending hours in museums, you'll love visiting Tuscany. Tuscany has a long legacy of producing the world's most exquisite art; from monumental sculptures of the Renaissance and Tuscany periods to the urban street art of Florence, Tuscany is alive with color and imagination!
Blue Horizon Travel & Yacht Charters wants to be there for you every step of the way. From figuring out lodging accommodations to searching out the best deals, our expert travel agents have the moxie and talent it takes to handcraft you a vacation that will be talked about for years. We also plan cruises! Sail away with us and book your romantic getaway today!