When people think of River Cruises, they usually think of sailing the rivers in Europe. Most of the best river cruises take place in central Europe with the opportunity to see some of the best cities in Germany, Czech Republic, Austria, etc. The Mississippi river isn't usually a travel destination, especially for a river cruise.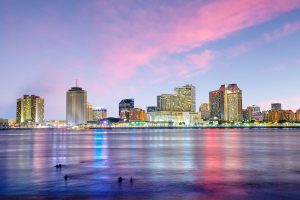 At Blue Horizon Travel & Yacht Charters, we're traveling to the Mississippi River to jump on a river cruise. The next couple of years, we will be sight seeing on the Mississippi! Check out our trip packages to reserve your spot!
Here's What to Expect with the Mississippi River Cruise
We have several different cruises we will be lining up in the next couple of years. Right now, our next river cruise on the Mississippi for Christmas '22 is all booked up, but we will have spots available for the next year.
Here are some of the river cruise routes:
St. Louis – St. Paul, St. Louis to New Orleans, Memphis to New Orleans. New Orleans all the way up to St. Paul or St. Paul to New Orleans. Check out the Viking River Cruise's website for more information!
Why Choose to Cruise on the Mississippi?
The Mississippi River is home to some of the oldest cities and towns in our country packed full of historical sites. During the Christmas time and other seasons, these cities and towns come alive with music, shopping, celebration, and much more!
If you're looking to change up your vacation in the next couple of years, why not go on a historical cruise on the Mississippi. We will be updating our site in the future for reservations for the Mississippi River cruises for the next couple of years.
Contact Blue Horizon Travel & Yacht Charters at 800-939-4334 today or visit us online for more information about our upcoming trips and packages!