After spending weeks, if not months, planning your vacation, all you want is the picture-perfect experience with tons of sight-seeing and sunshine. Unfortunately, things don't always pan out the way we want them to and there is always the chance that your trip may be plagued with grey skies and rain. Rather than mope around in your hotel room hoping for a change in the forecast, get up and make the most of your vacation!
We have been holding off on traveling and vacationing for a while now due to the past year of the pandemic, so when the rain joins us on our vacation we've been planning to enjoy, it can be even more of a bummer. No matter where you are, there are always plenty of great activities to enjoy on a rainy day: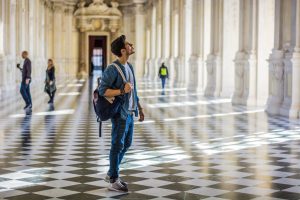 History & Culture
Take in some of the local culture and history by checking out some of the local museums. Some great options for when you're abroad include the Louvre in Paris or the Van Gogh museum in Amsterdam. Visiting Ireland? It may not seem like a "traditional museum" to you, but the Guinness Storehouse in fact is a museum of sorts, with interactive displays around every corner. Bonus: once you make your way through all of that, you can have a pint and take in a great view of Dublin at the top floor Gravity Bar.
Everyone and their mother will have asked you to bring something back for them upon hearing of your travel plans. If you're feeling generous, use this time to get a little bit souvenir shopping done in some of the covered shops. This way when the weather does clear up, you can spend the rest of your trip enjoying your time the way you want, without having to worry about who you haven't shopped for yet.
Local Shops & Restaurants
When the rain hits, duck into a pub or café for a drink or two. The atmosphere will be more than cozy and if you're lucky, you may have caught a night where some live music is being played. Use this opportunity to start a conversation with some of the local patrons and possibly create a new friendship.
If you're looking to plan a memorable vacation, don't hesitate to reach out to us here at Blue Horizon Travel & Yacht Charters. Contact Blue Horizon Travel & Yacht Charters at 800-939-4334 today or visit us online for more information!
(Posted by Diane Gelaude of Blue Horizon Travel & Yacht Charter) – See more at: https://www.bluehorizon.net/travel-blog.html/#sthash.2xRFatjh.dpuf
(Posted by Diane Gelaude of Blue Horizon Travel & Yacht Charter) – See more at: https://www.bluehorizon.net/travel-blog.html/#sthash.2xRFatjh.dpuf