The Caribbean has long been synonymous with stunning beaches, crystal-clear waters, and vibrant culture. While popular destinations like Jamaica, the Bahamas, and the Dominican Republic are celebrated for their beauty, there's a whole world of lesser-known, untouched Caribbean islands waiting to be explored. The best way to uncover these hidden gems is through a yacht charter, where you can enjoy an authentic and private Caribbean experience like no other.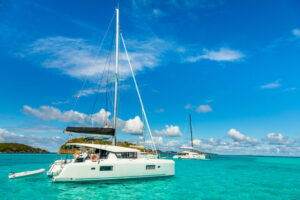 Saba: The Unspoiled Queen
Located in the northeastern Caribbean, Saba is a tiny island that's often overshadowed by its more famous neighbors. What Saba lacks in size, it more than makes up for in natural beauty. Known as "The Unspoiled Queen," this island boasts lush rainforests, pristine coral reefs, and a dormant volcano. Yacht charter enthusiasts can dock in the charming village of Fort Bay and hike the famous Mount Scenery, which offers panoramic views of the Caribbean.
Bequia: The Quintessential Caribbean Escape
Nestled in the Grenadines, Bequia is the Caribbean's quintessential hidden gem. With no direct international flights, this island has remained a well-kept secret. Bequia offers visitors a relaxed atmosphere, idyllic beaches, and a vibrant local culture. Yacht charters can drop anchor in Admiralty Bay and explore the island's lively markets, cozy beach bars, and the enchanting Old Hegg Turtle Sanctuary.
Dominica: The Nature Lover's Paradise
Known as "The Nature Island," Dominica is a lush, mountainous paradise for nature enthusiasts. Yacht charter guests can explore the island's dense rainforests, hot springs, and volcanic landscapes. A must-visit is the remote Indian River, which can be navigated by rowboat through a cathedral of mangrove trees. Dominica also offers some of the Caribbean's best diving and snorkeling experiences, with vibrant coral reefs and underwater volcanic formations.
Guadeloupe: Where France Meets the Tropics
While Guadeloupe is an overseas department of France, it remains an off-the-beaten-path destination. Yacht charters can dock in the lively town of Pointe-à-Pitre, where you can explore French-Caribbean fusion cuisine, colonial architecture, and vibrant markets. But the real magic of Guadeloupe lies in its natural wonders, from the dramatic cliffs of Pointe des Châteaux to the serene beaches of Les Saintes islands.
Nevis: The Caribbean's Best-Kept Secret
Often overshadowed by its larger sister island, St. Kitts, Nevis offers a tranquil escape from the crowds. Yacht charter visitors can enjoy the island's charming plantation inns, historic sites like Hamilton House, and unspoiled beaches. Hike to the peak of Nevis Peak for breathtaking vistas or relax in the natural hot springs of Bath Village.
Tobago Cays: A Pristine Marine Playground
Tobago Cays is a secluded archipelago in the Grenadines, renowned for its untouched coral reefs and vibrant marine life. Yacht charter enthusiasts can snorkel with sea turtles, explore uninhabited islands, and savor a beachfront barbecue prepared by local chefs. The crystal-clear waters of Tobago Cays are a sailor's paradise, offering some of the best sailing conditions in the Caribbean.
Exploring these lesser-known Caribbean islands on a yacht charter allows travelers to experience the region's unspoiled beauty, rich culture, and warm hospitality in a private and authentic way. Whether you're seeking adventure, relaxation, or a bit of both, these hidden gems of the Caribbean promise an unforgettable escape from the ordinary. So, set sail on a yacht charter and discover the Caribbean's best-kept secrets for yourself.
At Blue Horizon Travel & Yacht Charters, we can help you plan your dream yacht charter in the Caribbean with a detailed itinerary tailored to your travel desires. Contact Blue Horizon Travel & Yacht Charters at 309-526-3499 today or visit us online for more information!