Traveling with a group of friends or family is a special experience. It's a time to create lasting memories, share adventures, and bond with your loved ones. However, planning a group vacation can be challenging, with different interests and preferences to consider. That's where personalized group trip planning comes in, and Blue Horizon Travel & Yacht Charters is here to make it happen.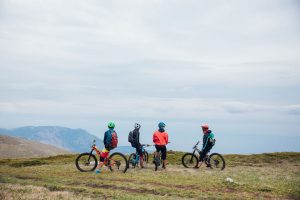 Why Choose Personalized Group Travel?
Group travel, when tailored to your preferences, offers a multitude of advantages:
Flexibility: Personalized itineraries allow you to set the pace and style of your trip. Whether you prefer a leisurely exploration or an adventure-packed journey, the choice is yours.
Shared Experiences: Customized trips are designed to cater to your group's interests, ensuring everyone enjoys their favorite activities and attractions.
Exclusive Experiences: Personalized travel often includes unique experiences that you wouldn't find on cookie-cutter tours, making your trip truly memorable.
Privacy: You can choose to explore destinations at your own pace, without the crowds, and enjoy private accommodations, such as luxury yachts.
Quality Time: Group vacations are an opportunity to strengthen bonds with your travel companions. Personalized itineraries allow for quality time together.
Why Blue Horizon Travel & Yacht Charters?
At Blue Horizon, we understand that every group is unique, and we're dedicated to turning your travel dreams into reality. Here's how we make it happen:
Expertise: Our team of travel advisors possesses in-depth knowledge of a wide range of destinations, from exotic islands to bustling cities. We can offer recommendations based on your group's interests, whether it's relaxation, adventure, or cultural exploration.
Customization: We work closely with you to design an itinerary that caters to your group's specific desires. Whether it's crafting a culinary journey, organizing outdoor adventures, or planning a cultural immersion, we've got you covered.
Exclusive Access: Through our extensive network and partnerships, we can arrange exclusive experiences that you won't find in typical travel packages. Imagine having a private beach picnic on a secluded Caribbean Island or embarking on a personalized wine tasting tour in Europe.
Group Size Flexibility: We can accommodate groups of various sizes, from intimate gatherings to larger reunions. Our goal is to ensure that every member of your group has a fantastic experience.
Peace of Mind: We handle all the logistics, from booking accommodations and transportation to arranging activities and excursions. This allows you to relax and enjoy your vacation without the stress of planning.
Turning Your Vision into Reality
Imagine exploring the picturesque coastlines of the Mediterranean on a private yacht, savoring delicious local cuisine, or embarking on an adventure-packed journey through the heart of America. With Blue Horizon Travel & Yacht Charters, these dreams can become a reality. We take pride in creating personalized group travel experiences that leave you with cherished memories and a deeper connection with your travel companions.
So, why settle for a one-size-fits-all vacation when you can have a tailored journey that perfectly suits your group's desires? Contact Blue Horizon Travel & Yacht Charters at 309-526-3499 today and let us craft the ideal group vacation itinerary that will exceed your expectations and provide you with a travel experience like no other.