Summer vacation is coming to an end unfortunately, but for some, traveling in the hottest season is not ideal. Traveling during the Fall season can be some of the most memorable vacations you'll ever have. In many places, the weather is just perfect, and there are so many events, festivals, and other activities to do, you'll never get bored on your vacation.
Consider these destinations for your autumn getaway and envision yourself enjoying the vacation with beautiful weather and unending activities!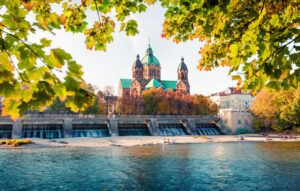 North American Fall Destinations
Chicago – The great city of Chicago lands on many lists, and it lands again on our list as a great option for late-summer and autumn travelers, while the peak-season crowds are busy planning for winter weekends. The food scene and shopping in this town are second to none, and you can fully enjoy the museums, aquarium, and other attractions now that all the children are going back to school.
Las Vegas – A great option in the Southwest is Las Vegas, a great getaway for the post-heat planner, with its year-round playground for entertainment addicts of all ages. There is always a show, concert, or social event to attend here – outside of the obvious draw of the casinos' cash-out callings.
U.S. National Parks – We have gone over some of the most beautiful National Parks in our country in a past blog post. The Fall season is a great time to visit the wilderness in our beautiful country. Check out the past national park blog to get an idea on which parks would be the best during the Fall season.
Vancouver – Shoot up to Western Canada and visit Vancouver, another autumn oasis, with its affordable accommodations and ample artsy activities. Get here in the pre-freeze months and you'll be in time for the International Film Festivals and Writer's Fest, with time in between outings to stroll through the city and take in the beautiful fall foliage.
International Travel Destinations in the Fall
Melbourne – Australia is quite a ways from the United States, but while it is turning to fall here, springtime showers are bringing forth the first blooms of the year in Melbourne, the land down under. Moderate temperatures and ample attractions make autumn the perfect time to hop a flight like a kangaroo and get to Australia!
Munich – Germany is a must for when traveling during the Fall season. Munich, Germany in the autumn, is all about one grand spectacle: Oktoberfest. A beer-drinker's destination vacation, this annual observance of Bavarian bounty demands extra planning, so book your flights and accommodations before the local hotels are all sold out and say "auf wiedersehen" to the states for a great getaway!
Buenos Aires – Back in the Western Hemisphere, Buenos Aires, Argentina comes alive in what is known as the largest rose-related event in the world. Occurring every spring – the season that correlates with fall moving in here in the Northern Hemisphere – more than 1,000 species of roses bloom all around the city. Visitors can take in the many sights and smells during the spring season in Argentina and enjoy the city's romantic and rosy disposition – sure to make a great getaway!
Let Blue Horizon Travel & Yacht Charters help you plan your getaway to these or any other great destination this fall. Contact us today and discuss your dream destination, your budget, and your plans for this Fall!