Traveling is not just about exploring new destinations; it's also an opportunity to tantalize your taste buds with the flavors of different cuisines. For food lovers seeking a culinary adventure, Blue Horizon Travel & Yacht Charters offers a remarkable journey where gourmet experiences meet stunning destinations.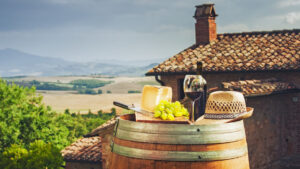 Epicurean Delights in Vibrant Cities
Blue Horizon takes you on a culinary voyage through vibrant cities where gastronomy thrives. Explore the vibrant streets of Tokyo, where you can indulge in sushi-making classes, discover the art of ramen, and immerse yourself in the world of sake. Uncover the flavors of Barcelona's tapas scene, sampling local delicacies like patatas bravas and Jamón Ibérico. In New Orleans, savor the rich Creole and Cajun cuisines, as you sample jambalaya, gumbo, and beignets. Our expertly crafted itineraries ensure you experience the culinary gems of each city.
Farm-to-Table Experiences
Blue Horizon believes in promoting sustainable and authentic culinary experiences. We provide opportunities to explore the farm-to-table movement by visiting local markets, farms, and vineyards. Engage in hands-on experiences, such as harvesting fresh ingredients, participating in cooking demonstrations, and enjoying farm-fresh meals. From the vineyards of Tuscany to the olive groves of Provence, connect with the land and savor the flavors of regional cuisine.
Gourmet Dining Experiences
Indulge in unforgettable gourmet dining experiences curated by Blue Horizon. From intimate candlelit dinners on the deck of a luxury yacht to exclusive meals at Michelin-starred restaurants, we ensure your taste buds are treated to an exquisite feast. Imagine savoring fresh seafood while cruising the Mediterranean, enjoying a sunset beachside barbecue in the Caribbean, or delighting in a wine-pairing dinner overlooking the vineyards of Napa Valley. Our culinary experts work closely with renowned chefs to create unforgettable dining experiences tailored to your preferences.
Culinary Adventures on Yacht Charters
Combine the joy of sailing with culinary experiences on a yacht charter with Blue Horizon. Sail to enchanting destinations while relishing the finest cuisine prepared by onboard chefs. Dive into the crystal-clear waters of the Caribbean and feast on freshly caught seafood. Explore the Greek islands and savor the flavors of the Mediterranean. A yacht charter offers the perfect setting for a unique culinary adventure, where breathtaking landscapes and gourmet delights collide.
These experiences can all be had with a little help from Blue Horizon Travel & Yacht Charters. Contact us today at 309-526-3499 to learn more about our travel services.