In honor of late President William McKinley, Denali was originally created in 1917 as Mount McKinley National Park, with the intention of making the land a game refuge. However, after the Alaska National Interest Lands Conservation Act (ANILCA) in 1980, the park boundary was enlarged by 4 million acres and renamed Denali National Park and Preserve. To this day, the National Park is one of the last great frontiers in the world.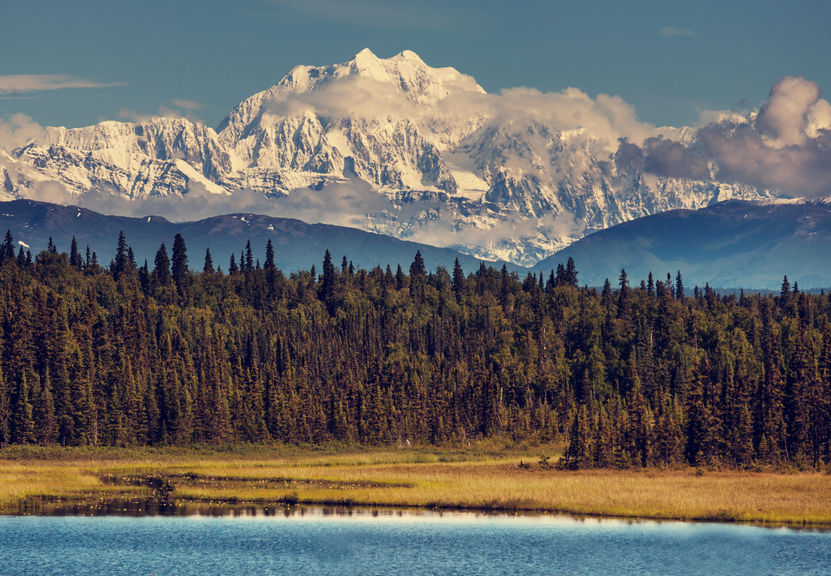 During a visit to the park, not only will you be greeted with a picture-perfect view, but as you share a space with an extremely diverse band of wildlife, you may even find yourself lost for words. Denali alone is home to 39 species of mammals, 169 species of birds, 14 species of fish and one amphibian, known as the wood-frog. It's the hope of many park visitors to catch a glimpse at the "big five", which includes the moose, caribou, Dall sheep, wolf and grizzly bear.
A vital aspect of what makes the Denali National Park so ideal for these animals is the more than 1,500 species of vascular plants, mosses and lichens living throughout. Preserving the vegetation in this area is essential to maintaining the animal life that visitors, like us, travel far and wide to see. Plus of course, the plants themselves are quite a sight to see.
Then of course, there is the main attraction: Mount McKinley. Famously known as the highest mountain in North America with a height of 20,320 feet, there's no way you'll be able to miss this one s you explore the park. Thanks to a period of tectonic activity that began roughly 60-million years ago, Mount McKinley is basically a gigantic block of granite that has been lifted above the Earth's crust. As you observe its mass, you may even get the idea that you're looking at a glacier, but the mountain is simply covered in permanent snowfields due to its high altitude.
As you can tell, there is much to see on our stop at the Denali National Park, and some even say that the sight of it will change your life. In fact, at the lower level of the Denali Visitor Center, there is a place where many past visitors have shared what Denali has meant to them.
Contact Blue Horizon at 309-526-3499 today for more information about traveling during these times and future events!