So, you've finally tied the knot and all you want to do is bask in the bliss that is love. Whether you are planning your first honeymoon or an anniversary trip, make it a memorable vacation by traveling to an amazing location. To plan the perfect honeymoon, you need to know what both you and your partner enjoy. Are you adventurous or laid back? Are you looking for rest and relaxation or a thrilling adventure? No matter what you both are into this list will help you narrow your search for the perfect honeymoon location!
1. Saint Lucia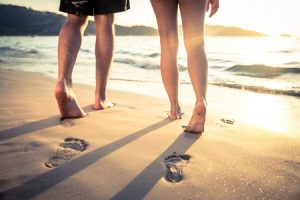 This Eastern Caribbean island is the perfect place for a romantic getaway for two. With its' amazing black-sand beaches and lush rain forest, this tropical island is sure to awe both you and your new spouse. Hike through the Pitons, two beautiful mountainous volcanic plugs located just south of the coast, the world's only "drive-through" volcano. If you aren't up for a long trek, opt for a boat tour of the mountains.
2. Dubai
This luxurious city located in the United Arab Emirates is a must-see destination. Indulge in some serious retail therapy, with over 96 malls across the city, and enjoy the beautiful Arabian architecture
3. Montego Bay, Jamaica
Considered the epicenter for tourism in Jamaica, there are many things to enjoy in Montego Bay. This small Caribbean island has much to offer. Immerse yourself in the local culture by visiting local restaurants and tasting authentic jerk chicken.
4. Vieques, Puerto Rico
If you're looking for a luxury island vacation without breaking the bank, this is the place for you! Vieques is a beautiful island located just off Puerto Rico's eastern coast. It is well-known for scenic boat tours of the Bioluminescent Bay. Dinoflagellates, small single-celled organisms, create a glow effect in the water which resulted in the Bioluminescent Bay. There are only 5 of these unique ecosystems in the world, and Puerto Rico is home to 3 of them.
5. Toronto
There are, many different options for a couple looking for adventurous fun in the 6. Toronto is a truly beautiful city, to really take in this city's glory take a helicopter tour! Book a private tour for a romantic sightseeing adventure.
6. Bermuda
With a number of luxury resorts and hotels, there are many different places to relax in paradise with your better half. Bermuda has many beautiful pink-sand beaches, perfect for laying out and taking that perfect Instagram-worthy photo!
7. Germany
Germany has a lot of romantic scenic areas that are ideal for a honeymoon destination. If you love cozying up watching the snow fall outside, Berchtesgaden is the perfect town to spend your honeymoon. Relax in a rustic cabin while sipping wine by the fireplace. If you fancy a more fast-paced city, Dresden is a great place to immerse yourself into the local culture. Visit fancy vintage boutiques, contemporary art galleries and enjoy a night out at the local night clubs.
8. Egypt

This Mediterranean country is the perfect place for adventure. Enjoy a hot air balloon tour of the historic Luxor Temple. Visit the Luxor museum to see the amazing treasures from the tomb of King Tut. If you are looking for a thrilling adventure take a dive in the red sea and go snorkeling in the coral reef!
9. Scotland
Ring in the new year and rejoice in new marriage status at Edinburgh's Hogmanay celebration. Hogmanay is a Scottish tradition of celebrating the new year in a spectacular way! They host a lively street party complete with carnival attractions, fireworks, live entertainment and more!
10. Alaska
Enjoy the highlights of Alaska by taking a cruise through Glacier Bay. Some cruises also offer a land tour. This is the perfect trip for a couple that enjoys nature and adventure. If you want to see the amazing Northern Lights the best time is between med-September and late April.
No matter where you choose to spend your honeymoon, take the stress out of planning the trip with Blue Horizon Travel & Yacht Charters. Of course, you love your spouse, but the road to getting married can be exhausting and the last thing you want to do after all that is worry about creating a unique vacation for the two of you. The professionals at Blue Horizon & Yacht Charters have been planning wonderful complete vacations for over 20 years. Submit your travel request today so we can plan your perfect honeymoon!