When most people think of Tahiti, they think of a country, but it is actually one of the main islands that make up the gorgeous French Polynesia in the South Pacific.
Here are a few pointers to consider that can help make your vacation to Tahiti this spring the ultimate dream.
There aren't many options for air travel to Tahiti from the U.S., the demand from which drives prices up during popular months of the year. With such limited airfare options and such high demand, it is recommended you book 4-10 months ahead of time. Be sure to ask your travel agent about what promotions are available for early booking.
Plan around Activities
The weather in Tahiti is gorgeous all year round. Temperatures tend to stay between 75°-85° without much variance. However, different parts of the year are more suitable for certain activities than others. Tahiti's "winter" runs from April to October and is considered their dry season. The weather tends to be a bit cooler and less humid during the winter, and the water tends to be clearer, making it ideal for underwater activities like scuba diving and whale watching.
Bring it with You
Tahiti is a very small, very remote island in the South Pacific. Most of the essential items you'll find in Tahiti were not made anywhere near there and have been imported from somewhere else in the world. This makes them much more expensive than you are accustomed to, even by vacation standards. So, if you think you are going to need something – a hairbrush, toothpaste, soap, etc. – and it can fit in your luggage, do yourself (and your wallet) a favor and bring it with you. It is also recommended to pack a variety of snacks to bring along, and to stock up on locally-grown or made food at markets to soften the financial blow of eating out at the hotel restaurant for each meal.
Make Time for Papeete
Just outside of the hotels and chains is the bay city of Papeete, which is the capital of French Polynesia. During your stay, be sure to venture into the city to see all that it has to offer. There is nothing like the Marché de Papeete Market in the afternoon and during those Tahitian nights! You can hit up the food trucks or "roulottes" for some fresh, authentic French, Tahitian and other Polynesian food with the locals.
Hop Around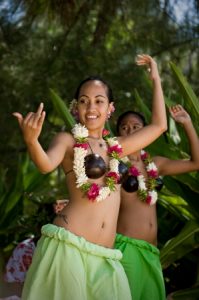 Tahiti is the most popular island in French Polynesia. The next most popular is Moorea and Bora Bora. However, there are several other smaller islands that can be well worth your time to visit on your vacation. For instance, Tikehau contains beautiful pink sand beaches and picturesque blue water, and The Brando Resort in Tetiaroa is one of the most luxurious in the world. If your time and budget permits, be sure to build in day trips to get the full experience of French Polynesia. If you like cruises, there are several small ships and private yachts you can get access to in order to experience several of the islands.
With so much to do and see, booking your Tahitian getaway can be daunting. Blue Horizon Travel & Yacht Charters would like to help you customize a travel itinerary for your group or family vacation. Set up an appointment today!