Planning a trip to Tuscany means medieval and historic towns, rolling landscapes, relaxing thermal waters, and delicious cuisine. As one of Italy's top tourist destinations, a vacation to Tuscany includes everything you need to relax and explore!
Here are the top 10 things to do and see in Tuscany!
1. Fall in love with Florence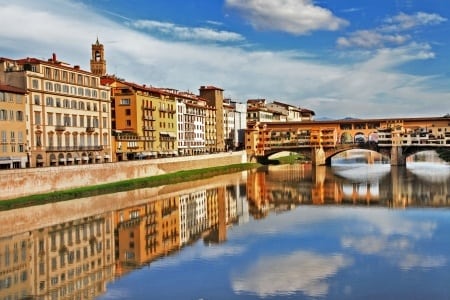 Florence makes nearly every list of the must-sees in Tuscany for a reason. Imagine viewing priceless Renaissance paintings in the Galleria degli Uffizi or spending some time reflecting in Florence's Cathedral. Shop along the Ponte Vecchio or tag along on some guided winery tours. With its historical charm and beauty, Florence is a must-see on your trip to Tuscany, and with so much to do, you'll want to save yourself some extra time for this city.
2. Switch to island time in Giglio
Off the coast of Tuscany is the Isola del Giglio, a gorgeous island situated in the Tyrrhenian Sea. Less permeated by tourists and sightseers than other nearby areas, Giglio offers a taste of island life unlike any other. View beautiful citadels and take some much-needed nature hikes through the mountains. Investigate local villages or adventure on the island beaches with some scuba diving or snorkeling.
3. Go beyond the Tower of Pisa
Pisa offers many hidden treasures sure to make your trip magical and memorable. After viewing the famous Leaning tower, head to Borgo Stretto for some elite street shopping, hit up the National Museum of San Matteo to take in a rich sculpture collection, and stop by Piazza dei Cavalieri (Knight's Square) to learn more about Pisa's political history.
4. Sip some wine in Chianti
Located between Florence and Siena is the Chianti Classico wine region. Wine lovers, this is the attraction especially for you! Tour numerous fine wineries and taste some of Italy's finest vintages. Take in the gorgeous landscape of the region as you rest and unwind!
5. View the skyline of San Gimignano
13th-century walls, old town centers, and medieval houses encircle one of Tuscany's Italian hill towns: San Gimignano. With a stunning skyline of 15 medieval towers, San Gimignano offers several activities and sights with feudal flair. Visit Piazza del Duomo, home to the Cathedral and make time to climb the Torre Grossa to see the landscape in a new way.
6. Scale new heights in Lucca
The "city of 100 churches," Lucca offers preserved medieval city walls for visitors to explore via walking or biking; you'll get to know the town by traveling the walls encircling it. Must-see attractions in Lucca include the Piazza Anfiteatr, built on the remains of the Roman amphitheater, and Duomo di San Martino, an attractive Roman Catholic cathedral.
7. Enjoy a spa day in Montecatini Terme
You deserve some relaxation time on your trip, and what better place than in Montecatini Terme, a top spa town in Tuscany. Visit several historic spas in the town to focus on your physical and mental wellness. Treasured for its thermal waters, this town is a must-see with nine thermal centers and breathtaking architecture.
8. Wander the canals of Livorno
A port city on the west coast of Tuscany, Livorno is renowned for delicious seafood and Renaissance fortifications. Walk along the port to admire the beauty of the harbor and travel down a series of curving canals and cobbled streets. Spend some time at Mercato Centrale and the Piazza della Repubblica to round out your stay.
9. Taste Biscotti in Prato
A major city in the Tuscany region of central Italy, Prato offers some great tourist destinations in Tuscany. Add the Emperors Castle and the Duomo di Prato to your list! Check out the Textile Museum to learn about Prato's past in manufacturing and don't forget to try Prato's famous Biscotti biscuit and cured Mortadella Salumi.
10. See horseback riding in Siena
The Torre del Mangia, Siena's bell tower, sets it apart as one of Tuscany's famous classic medieval hill towns. Discover Siena's fan-shaped Piazza del Campo and sample some local cuisine. Enjoy Il Palio, Siena's annual summer horse race, to see bareback riders race along the city streets, and take in the Church of San Domenico.
Plan your Tuscany vacation today with the travel experts at Blue Horizon Travel & Yacht Charters! Give us a call at 1-800-939-4334 today!