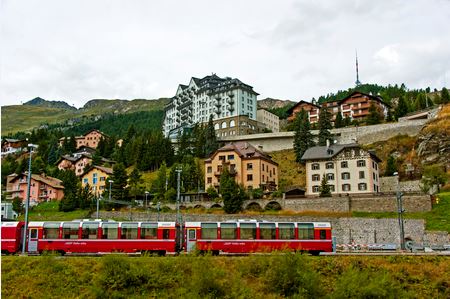 Switzerland is one of our favorite places, which is why we're so excited to announce that we're planning a tour of the beautiful country next September! Switzerland is one of the central hubs of Europe, and people come from across the world to visit this cultural center. Let's explore just some of what to expect when you sign up for our Switzerland tour, planned for Sept. 10-20, 2017, with an optional extension for guests to spend four days in beautiful Venice.
Our journey begins in scenic Zurich, with a visit to Rhine Falls planned as our first destination. Rhine Falls is the largest waterfall in Europe and the view is simply lovely. The waterfall was created by the shifting of tectonic plates and glaciers moving their way through Europe thousands of years ago during the last ice age. This excursion also includes lunch at a local restaurant called Rhinefall, a quaint little place with lots of natural light and a view of the falls. After lunch, we will head back to Zurich and tour through the city's Old Town, with the evening free for guests to explore on their own.
The next day we will be getting up bright and early to drive through the regions of Appenzell, Vaduz and Lucerne to embark on a Whisky Trek. Each Inn in this region has its own specialized whisky, and we will make multiple stops along the way to sample each of the local wares. Our first stop will be Appenzell to visit Brauerei Locher AG where guests can also buy some Appenzeller Bier. We them move on to Vaduz in Liechtenstein, where there will be time for free exploration. Last, we drive to Lucerne, where we will stay for the next two nights.
The following day starts with a walking tour of this quaint and historic city, visiting sites like the Lion Monument and Chapel Bridge. In the afternoon, we will head aboard a boat for a luxurious cruise on the lake to view the local scenery. We will be able to hop on and off of the boat at our choosing, with multiple destinations along the way. Following the cruise, guests are free to explore the city for the evening and check out the shops and local fare.
Lauterbrunnen, or "village of the waterfalls," will be our first stop the next day. We will then board a train that will take us to Kleine Scheidegg, a beautiful little area with a great view of the mountains where we will stop for lunch. Coming down the mountain, we arrive in Grindelwald, also known as the "village of the glaciers." This village has a history tracing back to the early 1000s, and it's easy to see why with such a lovely and the area is protected by natural features. After the stop in this village, we will be moving on to Interlaken for a folklore show and dinner.
Bern, or the capital of Switzerland, is our next stop. Chock full of colleges, this town is located on the Aare River. This town was known for its bear pits (Bärengraben), which used to home different types of bears. Thus, it's no surprise that Bern's symbol is a bear, and the animal is featured prominently on its coat of arms. Cheese fans can also rejoice with a visit to a gruyere farm for a fondue lunch at La Maison du Gruyere! Montreaux will be our final stop for the day, with a visit to Chillon Castle, a focus of Byron's work "The Prisoner of Chillon," along the shore of the crystal-clear Lake Leman!
Valais will be our stop the following day, with a stop at the famous Valais winery for a tour and lunch. After that, we will go the Mittelallalin ice pavilion via gondola to the top of the peak at Saas-Fee! The final stop for the day will be Zermatt, a popular ski resort town. This particular town does not allow gas driven vehicles, only electric vehicles or animal drawn methods of transportation. It's a quaint little place and one of our favorite stops on our trip. Guests will spend the next full day free to explore the village of Zermatt, exploring local bakers, butchers and a more relaxed way of life.
On the ninth day, we will board the Glacier Express train to St. Moritz, taking a ride through snow-covered mountains and waterfalls. A two-time host city for the Winter Olympics, St. Moritz offers a wealth of athletic history as well as famous mineral springs, discovered three millennia ago that established the city as a summer spa resort destination. The final day allows guests to explore on their own, seeing the history and sites of this historic city.
Guests depart for the airport on the afternoon of the ninth day, spending the final night at the airport hotel or catching a flight for the optional post tour extension, which takes guests on a three-day tour to Venice to explore the history of this vibrant cultural city.
Are you interested in these excursions? Do you have any questions about this trip? Learn more by checking out the full Switzerland itinerary online and print out your registration form, or give us a call today at 309-526-3499.