Most newlyweds dream of beginning their lives together by vacationing on a tropical island surrounded by crashing waves, moonlit beaches, and oceanfront views. Lucky for you, this dream can be made a reality with Blue Horizon Travel & Yacht Charters.
There are many reasons why you should consider honeymooning in Hawaii this spring; here are just a few.
Hawaii is a popular destination because it harbors some of the safest and cleanest beaches in the world. You can lay care-free on Waikiki's coast of white sand while sipping on your favorite margarita, or visit the more mountainous areas of the island and explore the beautiful black sand beaches. If you're feeling adventurous, you can travel to Hawaii's southernmost island, the Big Island, where the state's only green sand beach is located. This is a sight to check off of your bucket list. And don't forget to bring your camera, you'll want to capture these moments!
Abundant Wildlife
When you're lounging in your resort chair and breathing in the crisp sea breeze, make sure you take a moment to investigate your surroundings. You could be sharing the view with one of 140 bird species on the island, like the beautiful Koloa Maoli or the moorhen. Hawaii is also known for its large amphibian and reptile populations. If you get up to dip your feet in the cool water, you may encounter an angel or clown fish. Are you planning a boat excursion? Keep your eyes peeled for humpback whales and bottlenose dolphin while you surf the deep blue.
Glorious Weather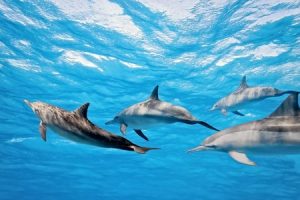 This last reason is a given. Hawaii's perfect positioning near the earth's equator makes it the chosen destination of people from all over the country. Spring is the start of the dry season for the people of Hawaii, with temperatures hovering around the mid to upper 80s range and rarely fluctuating. Why not enjoy the warm beaming rays blanketing the islands sans without the threat of rain on your honeymoon?
Blue Horizon Travel & Yacht Charters would like to help you customize a travel itinerary that is perfect for your honeymoon. Set up an appointment today!