A third of all engagements occur between Thanksgiving and New Year's Day.  According to The Atlantic.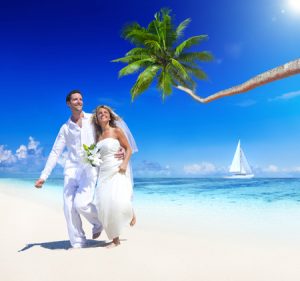 The holiday season is complete, which means there are many newly engaged couples beginning to plan their upcoming nuptials. Every couple is different, and there are a variety of options available when choosing wedding details.
Twenty-five percent of weddings are destination weddings. This can be a very exciting and surreal moment to share with your loved ones on a beautiful island. If you are considering a destination wedding or extravagant honeymoon, it can be much easier than you think.
Here is how to simplify your destination wedding plans:
Planning it all yourself can be very overwhelming, but a destination wedding or honeymoon can be easy with the help of the experienced travel professionals at Blue Horizon.
Traveling abroad can be a fun, yet intimidating task. New experiences can be wonderful! But if you try to add planning a destination wedding into the already difficult task of finding lodgings, travel, caterers and more – while also working within local regulations and laws – you face a task that could spiral out of control quickly. These details can be difficult to manage alone, as it takes an expert's experience to connect all the dots to create a seamless wedding experience.
Your wedding day is one of the most important days in your life, but many people find themselves stressing and agonizing over every little detail. With a destination wedding planned by Blue Horizon Travel, you can take the stress and strain out of your planning.
Trust the Experts
Our wedding planning experts will take care of making arrangements for airfare, rooms, venues, and vendors to take the hassle out of planning. This allows you to relax and truly enjoy your engagement and the journey to marriage. A destination wedding is also a great way to kick off your honeymoon, you can opt to stay at your wedding location.
With our vast experience working with a range of international vendors, we can handle all the communication with the local wedding planner for you, ensuring that your wedding is organized and ready well ahead of your arrival. All you will need to do is communicate with our staff then show up at the airport! Your destination wedding will be a luxurious, unique affair that will be the talk of your family and friends for years to come.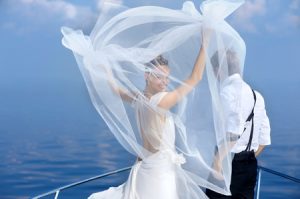 Staying local for your wedding but looking for a fun and relaxing honeymoon? We can also help you plan a destination honeymoon for you at destinations all around the world.  Do you want sun and sand, a more cultural experience in Europe or a more outdoor experience in Africa? Whatever you're looking for, we can help you plan it!
At Blue Horizon, we have contacts all across the globe and we can help you pinpoint where you want to go and help you develop the ideal experience, complete with the lodgings, excursions, and tours you want to include. It is your honeymoon, and we want to help you achieve your ideal experience. Your relationship is not cookie-cutter, and your honeymoon shouldn't be either. By booking with a travel company, you can personalize your experience for a tailor-made vacation designed just
Are you interested in planning a destination wedding or honeymoon? Call Blue Horizon today at 800-939-4334 to get begin planning the ideal wedding celebration and kick start the next stage of your lives in style!