Traveling with a group can be an incredibly rewarding experience, but it also comes with its fair share of challenges. From coordinating itineraries to managing logistics, organizing a group trip requires meticulous planning and attention to detail. That's where Blue Horizon Travel comes in. As a trusted travel advisor specializing in group travel, we understand the intricacies involved and strive to make the process as seamless as possible.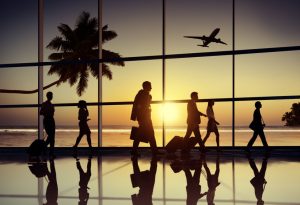 Personalized Group Itineraries
At Blue Horizon, we recognize that every group is unique, with diverse interests, preferences, and travel goals. Our expert travel advisors work closely with you to understand your group's specific requirements and design personalized itineraries that cater to your needs. Whether you're planning a family reunion, a corporate retreat, or a group of friends embarking on an adventure, we ensure that every aspect of the itinerary is carefully crafted to create a memorable experience for everyone involved.
Hassle-Free Accommodations and Transportation
Finding suitable accommodations and arranging transportation for a large group can be daunting. Blue Horizon takes the hassle out of these tasks by leveraging our extensive network of trusted partners and suppliers. We secure comfortable and conveniently located accommodations that can accommodate groups of all sizes. Additionally, we handle transportation arrangements, whether it's coordinating flights, organizing private transfers, or arranging group transportation during the trip. Our goal is to ensure that your group travels seamlessly from one destination to another.
Expert Local Guides and Tour Directors
One of the key ingredients to a successful group trip is having knowledgeable and experienced guides who can bring your destination to life. Blue Horizon partners with reputable local guides and tour directors who have an in-depth understanding of the regions you're visiting. They provide valuable insights, share fascinating stories, and guide your group through iconic landmarks and hidden gems. Our guides not only enhance your group's travel experience but also ensure that everything runs smoothly, allowing you to relax and enjoy the journey.
Group Activities and Experiences
Creating meaningful group experiences is at the heart of what we do. Blue Horizon collaborates with local experts and suppliers to curate a wide range of group activities and experiences tailored to your interests. Whether it's a private cooking class, a team-building adventure, or a cultural immersion workshop, we ensure that your group has opportunities to bond, connect, and create lifelong memories together. From adrenaline-pumping excursions to more relaxed outings, we offer a diverse selection of activities that cater to different group dynamics and preferences.
24/7 Support and Assistance
We understand that unexpected situations can arise during group travel. That's why Blue Horizon provides round-the-clock support and assistance to ensure that any challenges that arise are swiftly addressed. Our dedicated team is available to handle any inquiries, aid with changes or emergencies, and offer peace of mind throughout the trip. We are committed to making your group's travel experience as stress-free as possible.
Contact Blue Horizon Travel & Yacht Charters at 309-526-3499 to learn more about our travel services for groups and individuals.