No matter how experienced you are as a world traveler, packing is still a dreaded task. However, with the following tips and tricks up your sleeve, packing for your next trip will be a breeze!
So, let's find out: how much is too much when packing for your overseas trip?
Pay attention to what you wear during a normal week spent at home and use that as a basis for your packing! Start by making a list of everything you want to bring; electronics, toiletries, clothes, shoes, accessories, etc. Then edit that list, getting rid of anything excessive and unnecessary. This is a time to be ruthless.
The "what if" and "just in case" items should be cut from the list to make room for the essentials.
Think mix and matching while packing
Lighten your load by planning out your outfits beforehand and using certain items more than once. Jackets, sweaters and pants fall into this category of easily reusable clothing. Also, one purse and one hat that matches every outfit will undoubtedly be all the accessories you need!
Roll your clothing, don't fold!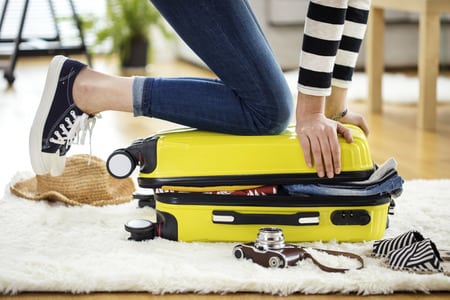 Normally, clothes are folded neatly into a suitcase to prevent wrinkles and wasted space. However, folding is actually the number one culprit of causing wrinkles and taking up space! Instead, tightly roll your clothing; this method will create more room in your suitcase and eliminate those deep creases.
Using this packing method does not mean you should be filling the space with more clothes or unnecessary items!
Check the weather the week before your trip
This tip is often forgotten but is essential to efficient packing. Looking at the weather forecast of your overseas destination and pack accordingly. The weather will act as a guide so that you don't have to bring both shorts and a winter coat.
Keep in mind your airplane outfit as you're packing
Take advantage of your plane's normally chilly temperature by layering your clothing or wearing some of your bulkier items. This flight outfit will create more room in your suitcase for other essentials or souvenirs to bring back home.
Follow these helpful tips and perhaps next time, you won't need to roll out a fourth suitcase. Speaking of, where are you off to next? Book your dream vacation with our team at Blue Horizon Travel & Yacht Charters. From ocean and river cruises to custom vacations and tours, we will help you plan your perfect getaway. Call 800-939-4334 today to speak with one of our travel experts!