If you don't have a summer vacation planned yet, why not pack your bags and head to Alaska? It may not be the most tropical locale on your vacation wish list, but it's on Blue Horizon Travel's list of top summer vacation destinations. Here are five excellent reasons to make Alaska your go-to getaway this summer.
Wilderness & Wildlife
If you're the outdoorsy type, you won't get bored amid Alaska's gorgeous scenery. Take in mountains, lakes, beaches, forests and just about everything in between in this great state. Alaska is the prime place for spotting wildlife. Kodiak, which is Alaska's largest island, is home to the world's largest bear species, the Kodiak brown bear. You can also check out bald eagles and moose, or book a trip out on the sea for some whale watching trips.
Glaciers
Glaciers can technically be considered "wilderness," we suppose, but since they're so distinctive, we decided they should have a separate shout out. About 5 percent of the total land surface of Alaska is covered by ice, but since the great state is so big, that still works out to about 100,000 glaciers. Glacier Bay National Park is an ideal spot to check out some glaciers. You may even get to witness "calving," which happens when giant blocks of ice break loose and crash into the sea due to temperature fluctuations that are more common and extreme in the summertime.
Skiing, Snowboarding and Everything In Between
It's summer, which means that fun in the sun is what comes to mind for most people. That doesn't mean that a skiing or snowboarding vacation is impossible, though. If you don't want to wait until winter for your next shred, head to Alaska this summer. You can even schedule a few runs on a mountain in the morning and then head to the beach in the afternoon and experience the best of both worlds in the same vacation.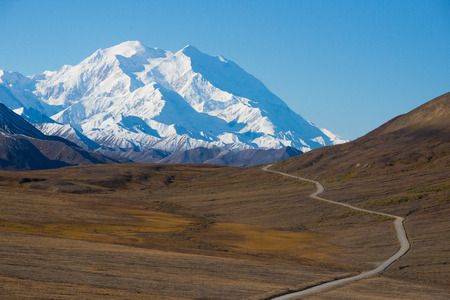 Road Trip
Most of us know that one of the best ways to experience a new part of the country is by heading out on a drive and road tripping. If you love the open road, you're sure to enjoy a car trip in Alaska. The state offers some excellent road trip areas, Alaska's Seward Highway and Denali Park Road are some of the most incredible road trip scenes in the country.
Culture
It's not all about the mountains, you know – Alaska also has a rich Native culture. During your trip, plan a tour of some of the small villages or larger ports like Juneau and Sitka and learn about the history of the state and its native residents. There are tons of cultural centers and natural history museums scattered throughout the state so you can experience local life both past and present no matter where you go. You're also sure to see the distinctive artistry of the Alaska Natives' cultures featured in almost every town you'll pass through.
There's so much to see in Alaska, which means it might be hard to plan the perfect vacation where you'll get a taste of everything. That's where Blue Horizon comes in – our custom vacation packages are the perfect way for you to plan a trip that allows you to experience the best that Alaska has to offer. Our knowledgeable travel agents are standing by to help you plan your trip from A to Z. Call us at 309-526-3499 to learn about our custom vacation packages and book your summer trip to Alaska today!