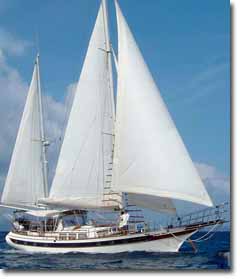 Crystal Clear CT62 Ketch
How does cruising around the Virgin Islands on your own personal luxury yacht sound? That is exactly what you get with the Crystal Clear yacht, available through Blue Horizon Travel & Yacht Charters. From the moment you wake up in the morning and see the tropical landscape that surrounds you, until the moment you drift off as the gentle waves rock you to sleep, you will love everything about this yacht.
The Crystal Clear, built back in 1984, can accommodate up to four guests and perfect for families and honeymooners. Luxury exists everywhere you turn when you are on board. It has a gorgeous woodworked salon with a tastefully done, warm and welcoming staircase. It also has an intimate dining area with varnished wood to unwind as you're eating your meals. All of the cabins on the luxury yacht have also recently been refinished and feature a touch of elegance. There is simply no better way to sail through the Virgin Islands.
Additional features on the Crystal Clear include a BBQ, hammocks, a book library, a deck shower, fishing gear, and more. Whether you are making your first trip to the Virgin Islands or taking your annual trip to the area, you will be treated to an experience unlike any other when you are on this luxury yacht. Rates start at $2,748 per person for a 7-day charter, based on four people, or $4,450 per person for a 7-day charter, based on two people. Ask Blue Horizon Travel & Yacht Charters about the family fun packages, honeymoon/anniversary trips, and stay and sail packages available on Crystal Clear by calling 309-526-3499 today.
Excellent for families & honeymoons
$2,748 Per Person, Per 7 Day Charter (based on 4 people)
$4,450 Per Person, Per 7 Day Charter (based on 2 people)
Ask about Crystal Clear's Family Fun Packages, Honeymoon/ Anniversary and Stay & Sail Packages