If South America is on your travel wish list, then you'll sure to be excited about Blue Horizon's next planned tour: Natural Treasures of South America, taking place next May! Here are some highlights of the trip – and available extension packages – running from May 12 to May 30.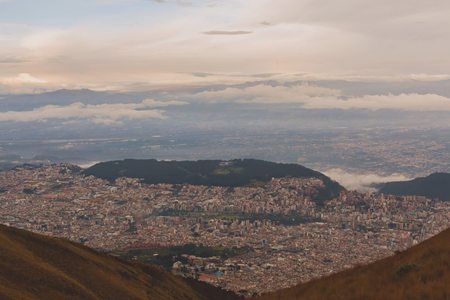 The first day guests will set down in Quito, the capital of Ecuador, to enjoy a three-night stay in Casona de la Ronda Hotel. On the second day, a full -day excursion takes visitors through Guayllabamba and Cayambe, plus a visit to the Otavalo Craft Market and lunch at a local hacienda.
Day three begins with a Quito city tour, taking guests through a guided sightseeing trip around the city's main landmarks, like the iconic Middle of the World monument! The afternoon is free for independent exploration before setting out for the next leg of the trip in the beautiful Galapagos Islands!
Guests will head on over to the Galapagos via a short flight on day four, visiting the Charles Darwin Research Station and embark on a luxurious five-day cruise aboard the Isabella II.
Days five and six give guests ample opportunities to enjoy guided wildlife explorations, with viewings of flamingos, sea lions and marine iguanas, plus snorkeling, swimming and kayaking, with stops planned at Sante Fe, South Plaza and North Seymour islands, plus Las Bachas – a major sea turtle beach.
Day seven takes guests to the top of Bartolome Island and a ride around Pinnacle Rock in Sullivan Bay. There's plenty more swimming, snorkeling, and exploring – including exploration around the local lava trails – to be had on day seven.
On the eighth day, the cruise makes port in Baltra Island and guests will take a flight back to Quito for a final overnight stay, with an afternoon to explore before setting back home on day nine. Think that eight days won't be enough to explore South America? Sign up for the Machu Picchu seven-day extension!
The seven-night extension includes a tour of Lima, Peru and ancient pre-Inca shrines, a visit to the Sacred Valley, a guided visit to Machu Picchu and Huayan Picchu, and an exploration of Sacsayhuaman Archaeological Park and the city of Cusco. Want even more time? There's a second three-day extension that takes guests to see a bit of the Amazon, too!
The final extension package takes guests out of Lima and to Puerto Maldonado for a four-day stay in the Posada Amazonas Jungle Lodge. Guests will experience wildlife of the Peruvian Amazon with trips on Tres Chimbadas Oxbow Lake, a medicinal trail walk, a night walk and trail hike to see parrots, parakeets and some of the giant trees that make up the stunning rainforest. Finally, on May 30, it all ends and guests return to Lima and onward to home.
These are just some of the highlights of the incredible excursions that you and your friends will enjoy when you book the Natural Treasures of South American tour with Blue Horizon. To register, complete the registration form online and return it to Blue Horizon or call Linda Meadors at 309-912-4888 or 800-939-4334 today!