Now that winter is settling in across much of the country, it might be time to start planning your getaway to somewhere warmer! Have a beautiful time in sun and surf when you plan a chartered yacht trip to the Virgin Islands.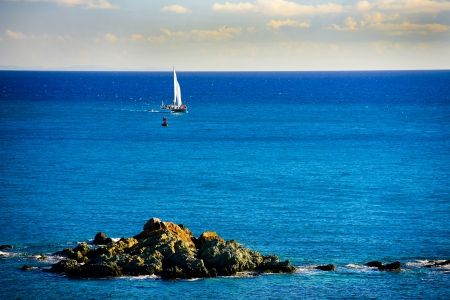 We might be biased, but we have always been partial to the Virgin Islands. It's warm, the people are friendly and there's a great combination of cultures in the region. The British Virgin Islands and the U.S. Virgin Islands are close enough together to offer a distinctive and unique blend of cultures while also being safe and friendly – especially to English speaking guests. There are so many small coves and unique places to see that it can be difficult if you're on land, but with a chartered yacht, you can visit the places you want to see on your schedule.
Are you interested in snorkeling, scuba diving? The U.S. and British Virgin Islands are a great place to partake in water sports. If these don't tickle your fancy, try taking and afternoon snooze on one of the many beaches available to you from your crewed chartered yacht. You could even explore the local towns and shops and get a taste of island living! Whatever you would like your experience to be, you have the freedom to make your trip your own with Blue Horizon.
One of the benefits of working with us is our close relationship with the Virgin Island Charter Yacht League and the BVI Charter Yacht Society, leading owner-operated charter vessel organizations in the Virgin Islands. Each business is held to a standard of safety and reliability within the their organization, and at Blue Horizon, we go a step further and only recommend yachts that we personally have visited and seen ourselves first hand. This ensures that when we offer you options, we can say that we've met the crew, seen the vessel and can truly say that these options are the best of the best!
When you work with us, there's no surcharge, meaning you can get the best rates possible while also having the convenience of coordinating your travel for you and finding the most affordable options. Booking a chartered yacht offers you an intimate and unique experience, free of the crowds at resorts or cruise ships. Make your vacation completely your own experience by chartering a crewed yacht through Blue Horizon.
Interested in learning more about reserving a crewed charter yacht for your vacation? Call us today at 800-939-4334 and let us help you find the best option to meet your budget, schedule and travel needs.