There is nothing quite like the butterflies you feel dancing in your stomach as you rush to Main Street USA from the main entrance gates of Magic Kingdom to behold the renowned Cinderella castle in all her whimsical glory. What can compare to the wild wonders of Animal Kingdom, the tingling thrills of Hollywood Studios, or the futuristic fantasies of Epcot?
Disney World excels in hosting families, making it one of the most sought-out destinations throughout the year. Before you make the trip to Florida to visit Mickey Mouse and the gang, consider these family-friendly tips.
Choose your dates wisely to avoid large crowds
Spend the most time possible riding your favorite rides and experiencing all that Disney World has to offer by booking your fantastical trip during the least crowded times of the year.
Instead of going to Disney during the summer months or around the holidays, choose an off-season time during the fall or winter months. You'll avoid long attraction lines in the sweltering summer Florida heat and cut time waiting for food and drinks throughout the day.
Go with a family game plan
Tackling a spectacular Disney World vacation requires a meticulous game plan for keeping everyone happy and smiling throughout the trip (no one likes tears in the Happiest Place on Earth!).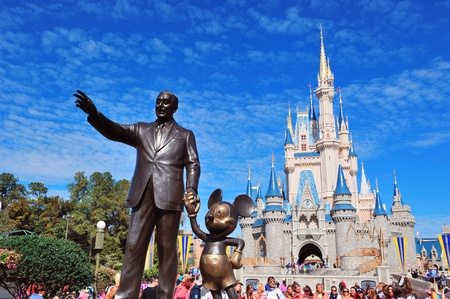 Create a family game plan for visiting each of Disney World's four main parks, leaving room for spontaneous experiences as the day progresses. Disney World comes jam-packed with amazing activities and awesome attractions, so try to spread things out to spare your family sanity. Pair a full day at Hollywood Studios with a quieter dinner reservation, or spend some time at your hotel pool before jetting off to enjoy evening fireworks.
Make use of technology
Disney World is on the cutting edge of some spectacular technology that you will want to use to maximize your family vacation. Get on board with the My Disney Experience app for planning out your dining experiences and attractions. Learn how to use the FastPass system to cut the lengthy lines on major attractions. Find out how the MagicBand bracelets mystically grant you entrance to rides and to your hotel room!
Now that you've got a few tips under your belt, it's time to book your trip. There are so many great reasons for visiting Disney World — whether you want to bring your kids to Disney World for the first or fifth time, you want to celebrate a special occasion with your significant other, or you want to visit Disney for an individual bucket-list experience, there is a perfect trip ready to be planned.
Head to Blue Horizon Travel to get started and you'll be dining with your favorite Disney princess in no time!